Penn State Sex Scandal: Boy Told Mother 'You Just Can't Tell Jerry No'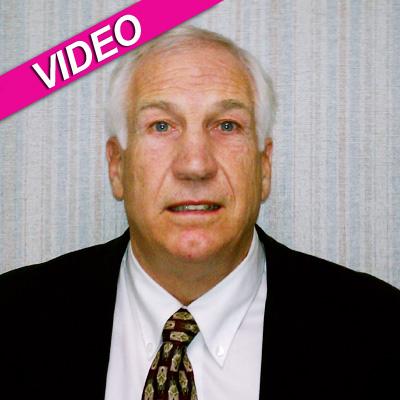 Warning: This story contains graphic details involving accusations against Jerry Sandusky.
The mother of one of Jerry Sandusky's accusers breaks her silence to ABC's George Stephanopoulos, telling how she learned of the former Penn State coach's alleged sexual abuse of her son, his visits to the boy at school and her rage toward school officials for their lackadaisical response to the boy's serious allegations.
Article continues below advertisement
The mother, who did not identify herself, was the first whistleblower on the 67-year-old defensive coach after her son (identified in the Grand Jury's report as Victim 1) told her Sandusky had been inappropriate in his conduct with him; she said her son emphasized how Sandusky used his tremendous influence and status to persuade his alleged child sex conquests.
"I had said, 'You ... should have told me,'" the mother told Stephanopoulos. "He was like, 'Well, I didn't know what to do … you just can't tell Jerry no.'"
The boy said he was just 11 when he met Sandusky in 2005 through Sandusky's Second Mile program, and the alleged molestation gradually kicked in.
Sandusky, the Grand Jury reported, "indecently fondled Victim 1 on a number of occasions, performed oral sex on Victim 1 on a number of occasions and had Victim 1 perform oral sex on him on at least one occasion."
The mother said when her son told her in detail about the accused pedophile's actions, she "was horrified.
Article continues below advertisement
"I was absolutely horrified: I knew some details but I didn't know that it was that, I didn't know it was that bad. It's caused a lot of nightmares, for him and I both."
Sandusky is accused of molesting eight boys over 15 years, from 1994 to 2009. He was arraigned on 40 criminal counts in connection with the accusations, including multiple counts of involuntary deviate sexual intercourse, corruption of minors, endangering the welfare of a child, indecent assault and unlawful contact with a minor, along with single counts of aggravated indecent assault and attempted indecent assault.
Sandusky was "a sexual predator who used his position within the university and community to repeatedly prey on young boys," Attorney General Linda Kelly said on Saturday when the one-time heir apparent to Joe Paterno was taken into custody and released on $100,000 bail.
In court papers, Victim 1 claims that Sandusky would visit the boy at his school, Clinton County High, and take him out of his classes.
Article continues below advertisement
"I proceeded to ask him if there was something he needed to tell me, if there was something going on … it wasn't 'till a month later when he indicated he was uncomfortable with leaving the school with him, and Sandusky pulling him out of classes at school," she said.
Read the Grand Jury report on RadarOnline.com
The mother said she was "infuriated" with the school's response, or lack thereof, when she reported her son's experience with the coach.
"Even if they had the slightest inclination that anything inappropriate was going on it should have been reported, or at least brought to my attention," she said. "I didn't even know he was leaving the school with my child, taking him out of classes -- they never told me that.
The scandal has shaken Penn State to its' very foundation, provoking the mass exodus of a number of officials for their purported inaction when allegations of Sandusky's pedophilic tendencies began sprouting up.
Article continues below advertisement
Watch the video on RadarOnline.com
Among the firings include head coach Joe Paterno and Penn State president Graham Spanier. Penn State Athletic Director Tim Curley and vice president for finance and business Gary Schultz both resigned this week after they were charged with perjury, accused of covering up a 2002 assault reported to them in which a witness claimed to see Sandusky raping a 10-year-old boy in the showers of the team's football compound.
The mother said she supports the university's decision to eliminate those who might have helped cover-up, or turn a blind eye, to Sandusky's alleged indiscretions.
"They all needed to be gone," she said, adding Sandusky "needs to be put away -- he needs to be put away for a long time."