Jonah Hill's 'I Didn't Realize You Were A 12-Year-Old Girl' Dig At CNN'S Don Lemon Sparks Twitter War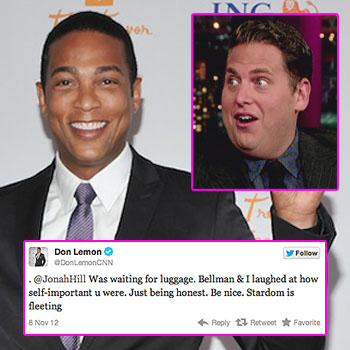 Jonah Hill and CNN anchor Don Lemon are involved in a Tweet-off after the newsman accused the actor of treating him like the "help" when they bumped into each other at a hotel recently, and RadarOnline.com has the details.
According to Lemon, the 21 Jump Street star rudely brushed him off when he tried to say hello and said he thought Hill must have assumed he was a bellhop!
A furious Lemon then took to Twitter to vent his frustration.
Article continues below advertisement
"Said hi to @jonahhill in hotel. Think he thought i was bellman. Didn't know his name till bellman told me. A lesson to always be kind," Lemon wrote.
But the Superbad comic didn't take too kindly to the tweet and quickly snapped back: "I said hi what do you want me to do move in with you? I was in a hurry. Didn't realize you were a 12 year old girl. Peace."
The ridiculous Twitter spat didn't end there though.
Lemon, who is gay, retorted: "@JonahHill Hardly. You're not my type. But I know rude. And u were."
Hill, 28, immediately lashed back with the Tweet: "I walked out of the restroom and found you waiting for me. Shook hands, said hi and was on my way. Sorry if you found that rude."
Lemon, 46, even mentioned the incident on air Friday morning and explained that he had just missed a flight before running into Hill because the taxi driver had asked to have a picture with him.
Article continues below advertisement
He also hotly denied that he had been "waiting" for Hill outside the restroom and insisted that he had been just hanging round for his luggage and had asked hotel staff who Hill was because he vaguely recognized him.
Speaking on Starting Point with Soledad O'Brien, Lemon said, "Normally it doesn't bother me, but I was done...I'd been taught by mother to always be kind to people."
Team Hill or Team Lemon?