Exclusive
Jon Gosselin's Kids Photographed With Pit Bulls, Sparks New Controversy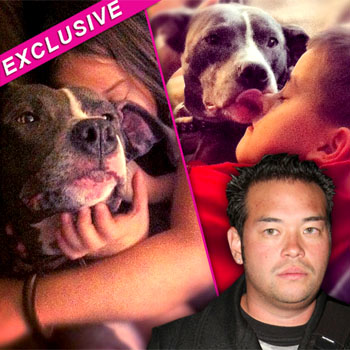 By Amber Goodhand - RadarOnline.com News Editor
Jon Gosselin's girlfriend caused a wave of fury when she posted photos of he and Kate Gosselin's children nuzzling with a pit bull dog, RadarOnline.com has exclusively learned.
"The most pure and genuine kind of love & affection," Liz Jannetta tweeted last weekend, showing one of Jon's daughters hugging a pit bull.
The photo immediately sparked outrage among some of her followers because of the dog's stereotype of being aggressive and unsafe around children, so Liz followed up by saying, "My kids r around pitbulls every day.. Frm Dobies, to German Shepherds to Rottweiler, now Pits- the desire 2 blame wil nvr fade."
Article continues below advertisement
Liz then posted another photo of one of Jon's sons with the pit bull and wrote, "Photography enables such devotion and feeling… <3 these two."
One follower shot back at Liz implying that Kate would be upset if she saw the photos.
"Sure u want 2 be stiring things up Liz..or u wouldn't be tweeting another woman's kids with pit bulls..Yes did U have permission?" they wrote.
"permission from.... Twitter?? Yes, "another woman's kids" also the children of my boyfriend. Kindly... Keep comments to urself plz," Liz shot back.