Exclusive
Did Kate Gosselin Hit Her Children With a Wooden Spoon? Reporter's Shocking Charges Made Public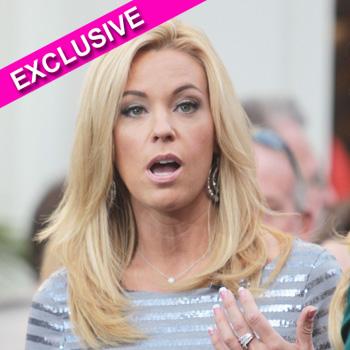 Kate Gosselin's parenting skills have been closely scrutinized since she put her eight children on television, but a shocking new claim details the extreme discipline they allegedly suffered at the hands of their mother.
"She was beating 2-year-old babies in diapers," reporter Robert Hoffman, who claims he found secret journals that Kate used to help her write her books, Multiple Bles8ings and EightLittle Faces, told Star magazine.
Article continues below advertisement
According to Hoffman, the former Kate Plus 8 star kept detailed notes on her computer about using a wooden spoon to hit her children, yanking them around by their hair, and punishing them for transgressions as minor as trying to climb out of a crib or not adjusting to potty training quickly enough.
"I don't judge somebody for spanking, but what Kate wrote in her journal is just absolute violence," Hoffman tells Star exclusively.
He adds that Kate's lawyers attempted to block his forthcoming book, Kate Gosselin: How She Fooled the World.
Kate's own words may indict her, claims Hoffman. One example: When three of her children helped themselves to M&Ms without permission, she allegedly wrote, "I really, really lost it! I pulled Collin up by the hair, and I spanked them so hard!"
Kate, 37, also utilizes a wooden spoon, which she calls The Spanker, claims Hoffman.
Article continues below advertisement
"She uses that Spanker on a daily basis for anything and everything. The spanking entries are endless," he alleges.
Kate herself often worried about her excessive physicality, allegedly writing in the diary that she told her ex-husband, Jon Gosselin, that she "felt like I may hurt his children," and that she preferred it when the kids were "out of her sight" whenever she flew off the handle, because then she knew "that they are safe."
In another frightening entry, claims Hoffman, Kate wrote that she was so incensed after Collin threw a tantrum, "I sent him to his crib and whipped him into it very hard...I never felt that I may really seriously injure a child, but today was that day."
For more exclusive details about Kate's alleged questionable parenting, including boozy nights witnessed by her nannies, pick up the latest issue of Star magazine on newsstands Thursday.