Kate Gosselin Causes Twitter Outrage With Picture Of Daughter Mady's Legs In Heels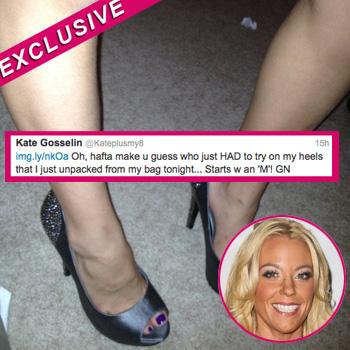 Kate Gosselin's fans are rabid and so are her haters.
And the haters are up in arms Saturday thanks to a photo Gosselin posted on her Twitter page of her daughter Mady's bare legs in a pair of Kate's high heels.
"hafta make u guess who just HAD to try on my heels that I just unpacked from my bag tonight... Starts w an 'M'," Kate wrote.
But what the former reality star probably thought was an innocent and fun pic of her 11-year-old quickly set off a war of Twitter words.
Article continues below advertisement
"What Mom would showcase her 11 yr old's legs to 100,000 Twitter followers with all the pedophiles out there, wearing Mom's high heels!" wrote one of Kate's followers.
Said another, "If you're suppose to protect your kids why showcase her legs on to the world, how pathetic."
Kate took the snap after returning home from New York where, as RadarOnline.com previously reported, Kate was a model for a charity fashion show staged during New York Fashion Week.