Not-So-Real Moms Of Reality Television! 10 Hot Mamas Who've Gone Under The Knife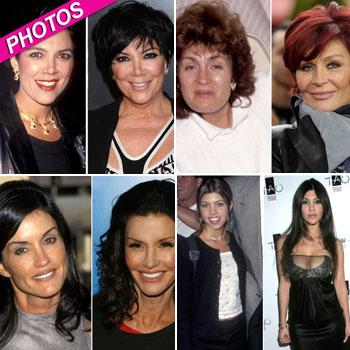 They may have gained fame from starring on reality shows, but these hot Hollywood mamas are far from natural when it comes to their looks!
From Mob Wives and rock matriarchs to Real Housewives and Teen Moms, these lovely ladies willingly expose their lives on hit reality shows -- and they aren't afraid of going under the knife. RadarOnline.com has photos of 10 hot reality moms who have gotten plastic surgery.
Article continues below advertisement
Keeping Up with the Kardashians matriarch Kris Jenner's face has drastically changed since her younger years, and not because of the natural aging process! Kim, Kourtney, Khloe, Kendall and Kylie's mom not only admitted to getting a little nip-and-tuck from Dr. Garth Fisher, but she actually had her facelift done on an episode of Keeping Up with the Kardashians. But she isn't the only mom on the show who has copped to getting work done. Mother of two, Kourtney, got a boob job several years ago.
Real Housewives of Orange County's Alexis Bellino is rumored to have undergone several surgeries, although the hot mama only cops to having a boob job, Botox and lip injections.
After having eight kids, Jon & Kate Plus 8 star Kate Gosselin wasn't afraid of getting an on-air tummy tuck to reverse the damage, but it may not be the only procedure she had done. The sexy single mom is also rumored to have gotten a boob job and fat transfers.
And Bethenny Frankel isn't bashful when it comes to her boob job. The reality star and talk show host admitted to getting a boost in her younger years, and more recently getting her assets fixed.
Which other hot reality moms have gone under the knife? Find out by clicking here.