Bethenny Frankel: Plastic Surgery Made Me Feel Hotter In Bed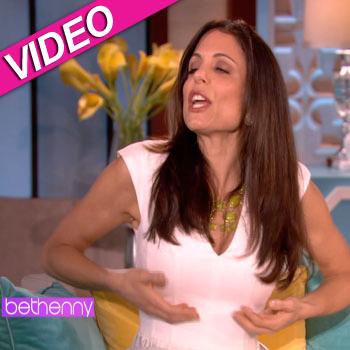 Bethenny Frankel is not bashful when it comes to talking about her boob job!
The former Real Housewife opens up about her plastic surgery on Friday's Bethenny, revealing why she went under the knife to get size D implants and that she has subsequently had them removed, and RadarOnline.com has a sneak peek of the revealing episode.
"I was in high school and probably about 30 pounds heavier and my boobs used to sag. They were bigger and they were saggy. They would almost like touch your stomach, when you feel like it's hot and sweaty. You know what I'm talking about?" She dishes to her guests Loni Love and Real Housewives of Orange County star Gretchen Rossi.
Article continues below advertisement
"I could of put a diet coke can underneath and hold it because they were heavy and saggy."
After losing all the excess weight in her late 20s, early 30s, her boobs shrunk in size.
"They were small. They were nice. They were probably like a C, but they were really still saggy. You know when you lay down naked and they're over here (on either side of you). They're like cocktails on the side. So my girlfriend said, you should do something."
Bethenny explains that she went to a plastic surgeon to get a lift, and he informed her that it would leave behind lollipop scars.
"I felt self-conscious that as a single woman going out and meeting men. I felt like I would be scared," she says about the scars. "So, he said put a small implant in it and it will lift it."
"I ended up with a D, and I didn't feel like it was right on me. I felt kind of sloppy. I felt like they were unwieldy and all over the place."
Article continues below advertisement
Bethenny Frankel & Jason Hoppy Headed For Divorce?
After Bethenny made her fortune, she could afford perfection.
"So then I went again like a couple of years ago when I could afford it to get them taken out and then lifted and I did feel much better," she says.
Her final words of boob job wisdom?
"If you want to do it, it doesn't matter if you're going to have scars. If you want to do it and you can afford it, look into it safely. You have to do what you really want. I'm not a person who would feel good with gigantic breasts."