Bethenny Frankel Reconciles With Stepfather Who Raised Her; After 23 Years!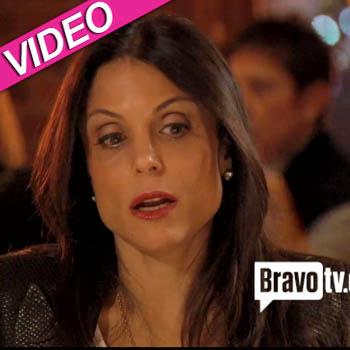 Bethenny Frankel has made no bones about the traumatic childhood she was subjected to, and hasn't spoken to her mother Bernadette for years as a result. She also had no relationship with her father, legendary horse trainer Bobby Frankel, up until his death two years ago from cancer. She was raised from age two by her stepfather John Parisella, but had been estranged from him since her teens.
Article continues below advertisement
However, in a trailer for the next episode of Bethenny Ever After, obtained by RadarOnline.com, the 41-year-old reveals that she has reconciled with John after being touched by his loyalty towards her.
In the clip, she is seen discussing her birth father Bobby over dinner, but the topic quickly moves to the stepfather.
"John is my father! I never lived a day with Bobby Frankel," she says.
Then switching to a monologue interview for the show she says: "I called my stepfather Dad, and referred to my real father as 'Bobby.'"
Cutting back to the dinner, a clearly passionate Bethenny is telling her dining companions that she had dinner with John, recently.
"I hadn't seen him… had a relationship with him since I was 18," the mother-of-one explains. "But he's never said anything negative about me in the press like my mother and when I spoke to him he was very sentimental about my childhood."
And she added that John told her that he felt responsible for the way she is today.
Article continues below advertisement
"I wanted him to know that, you know, some f***ed up stuff happened, he was a hustler, there was some stuff he did to my mother that was not great but before that, he raised me as his own,' she says.
"I wanted to validate that, have it acknowledged, you know 'you were the only father I ever had in my life.' And it was really nice."
Even though Bethenny has started mending some family fences it's highly unlikely Bernadette is on the top of her reconciliation list. As previously reported, she's angry at her mother, and has threatened to never speak to her again!
As RadarOnline.com previously reported, Bernadette opened up about her daughter's life in an exclusive interview with Star magazine, and the reality star is furious about her comments, to say the least!
"I hate her! I really do! I hate her. I just hate her. I really do," Bethenny said on a past episode of her reality show, going on to critique her aging mother's appearance. "Look how scary she looks. It's almost embarrassing to me what she looks like!"
Article continues below advertisement
In the interview, Bernadette shared her opinion on Bethenny's husband, Jason Hoppy and the couple's tumultuous relationship, saying: "Right now, he is a good father, but soon she won't need him and she will dump him. Her husband seems like a really nice guy, but it won't last. He is really too weak for her."
A furious Bethenny slammed her mother's comments, stating, "I haven't spoken to my mother in well over a decade. How does she know? She doesn't know me! I haven't known her since I was 14 years old."
She went on to claim that her mother, who said that Bethenny only cares about money and power, is dead wrong. "Unfortunately my mother has no idea what type of person I am," she said.
Bethenny vowed that her relationship with her mother is over…. forever. "She's so desperate, it's really sad," she said. "I will never ever speak to her again as long as I live."
Bethenny Ever After airs Mondays 10/9c on Bravo.