Exclusive
Bethenny Frankel WON'T Divorce; Real Reason She's Staying Silent About 'Marriage Woes'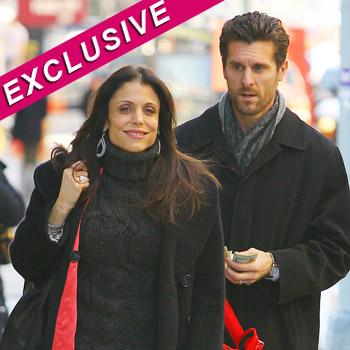 RadarOnline.com Assistant Managing Editor
Break-up rumors continue to swirl around Bethenny Frankel and Jason Hoppy, but the Skinnygirl founder has absolutely no intention of divorcing her husband of two years, RadarOnline.com has exclusively learned -- along with the reason why the reality star is staying mum on the subject.
During the season finale of Bravo's hit show Bethenny Ever After that aired Monday, Frankel learned that she'll have to move to Los Angeles to do a summer talk show and things with Jason became more tense as he was clearly unsure about the cross-country trek.
Article continues below advertisement
"The reason Bethenny hasn't publicly issued a statement denying the divorce rumors is to create buzz for her new talk show," a source close to the couple tells RadarOnline.com. "No one is smarter and knows how to use the press to her advantage more than Bethenny. She could have issued a statement straight away but she recognized that it would be better if she waited until the premiere which is only a few weeks away. Bethenny has absolutely no plans to divorce Jason at this time.
Bethenny Frankel & Jason Hoppy Headed For Divorce?
"Do they fight? Absolutely! However, it's always been the dynamic of their relationship. Bethenny will be the first person to admit she is difficult to live with at times, however, Jason can put up with it and gives it right back to her. Jason wouldn't have moved with her to Los Angeles if they had plans on divorcing.
"Jason wasn't thrilled about the prospect of moving to Los Angeles, even temporarily, but he is adjusting very well. There are a lot more opportunities for him work wise in LA and he is exploring his options. While Bethenny and Jason do have their issues, they are committed to the marriage. Bethenny doesn't want Bryn to grow up in a broken home, everything she does is for her daughter. Bryn is the light of her life."
MORE ON:
Bethenny Ever After
Article continues below advertisement
Bethenny dodged addressing the divorce rumors last week, choosing instead to promote her show, posting on Twitter, "We're going to talk about EVERYTHING on my show! June 11 on @foxbroadcasting. RT @KeymackSuz: @Bethenny r u getting a divorce?"
As RadarOnline.com previously reported, the couple signed an "iron clad" prenup before they married in 2010, two months before Bethenny gave birth to their daughter, Bryn.
"Bethenny wasn't going to get married without a prenup, to protect both herself and Jason," a source close to the situation told RadarOnline.com. "Bethenny has watched plenty of her friends over the years get divorced and has always vowed to never end up dependent on a man for financial stability or security. The prenup clearly outlines that ALL of Bethenny's business deals, endorsements, Skinnygirl, are hers, period. The prenup was modified after the couple got married, but Skinnygirl is and always will be Bethenny's, and Jason waived any rights to it."