Kate Gosselin Tweets About Her Kids Being With Pit Bull Belonging To Jon's Girlfriend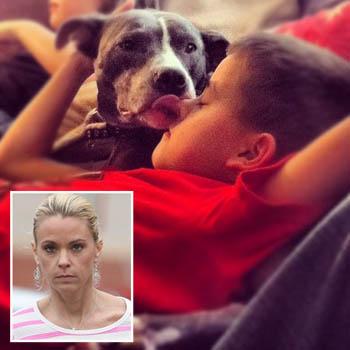 Kate Gosselin is none too-subtly going after her ex husband for allowing their children to nuzzle and play with a pit bull dog.
RadarOnline.com broke the story Friday that Jon's girlfriend Liz Jannetta was allowing the kids to hug and kiss her dog while she photographed them.
It sparked controversy among those that believe the dogs are dangerous and those who believe they are unjustly stereotyped as aggressive.
Article continues below advertisement
"Children who were victims of pit bulls Take a look & see why people care," Kate retweeted from one of her followers on Saturday.
Kate has also been clumsily HALLELUJAH! So happy!" Kate enthused.
As RadarOnline.com exclusively reported on Thursday, anti-Kate author Robert Hoffman took the former reality star to task for tweeting about Sandy under the hash tag #SuperfunSandy.
RELATED STORIES: