Donald Trump Calls Obama's Win 'A Total Sham & A Travesty'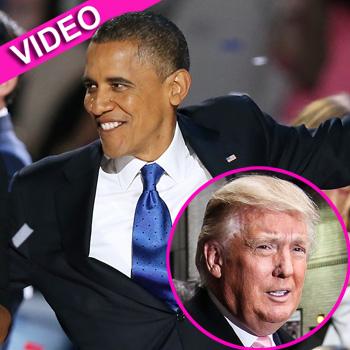 An enraged Donald Trump took to Twitter late Tuesday following President Barack Obama's win over Republican candidate Mitt Romney, calling the president's victory "a total sham and a travesty."
"Well, back to the drawing board!" the bitter Trump tweeted. "We can't let this happen. We should march on Washington and stop this travesty. Our nation is totally divided! Lets fight like hell and stop this great and disgusting injustice! The world is laughing at us. This election is a total sham and a travesty. We are not a democracy!
Article continues below advertisement
"Our country is now in serious and unprecedented trouble...like never before," he wrote. "Our nation is a once great nation divided! The electoral college is a disaster for a democracy. Hopefully the House of Representatives can hold our country together for four more years...stay strong and never give up! House of Representatives shouldn't give anything to Obama unless he terminates Obamacare."
Trump's over-the-top political commentary Tuesday naturally generated plenty of responses, including another outspoken New York-based celeb in Alec Baldwin, who wrote to him, "You trust the voters when they choose The Apprentice. But not now?"
Actor Mark Ruffalo tweeted, "Donald Trump just called for a Revolution. Doesn't like democracy I guess."
Modern Family executive producer Steve Levitan wrote, "Hey Trump, did you see Mitt Romney's concession speech? That's what graciousness and good hair looks like."
Reluctantly recapping Trump's angry barrage, NBC anchor Brian Williams said that the billionaire "has driven well past the last exit to relevance and veered into something closer to irresponsible" with the controversial series of tweets.