President Barack Obama Jokes Of Growing Up In Kenya With Donald Trump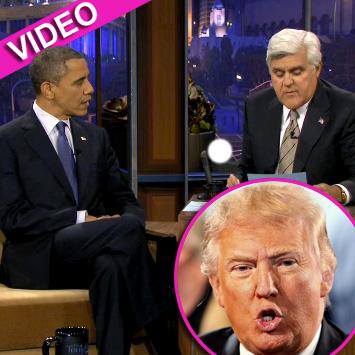 President Barack Obama, appearing on The Tonight Show with Jay Leno Wednesday, laughed off Donald Trump's challenge earlier in the day to show his college records and passport in exchange for a $5 million charity donation.
The president -- referring to Trump's vocal role in last year's birther controversy -- joked the New York billionaire's still holding a grudge from the time they grew up together in Kenya.
Article continues below advertisement
"We had constant run-ins on the soccer fields," the president jokingly told Leno. "He wasn't very good and resented it. When we finally moved to America, I thought it would be over!"
Watch the video on RadarOnline.com
"I haven't actually met him," the president told Leno of Trump.
The president, asked if he was relieved the debates had ended, said he was just "sort of getting the hang of it."
He said of his performance in the first debate -- which most pundits felt was a bust for him -- that "the truth is, this is not a natural way of communicating... you don't sit next to somebody and have an extended argument with them like that.
"With Michelle, I just concede every point. That's why we celebrated our 20th anniversary."
The president -- in a subtle dig at Michigan-based rival Mitt Romney -- told Leno he's rooting for the Tigers in their World Series match-up with the San Francisco Giants.
"I will say, I've spent a lot of time in Detroit lately, and I didn't want to let Detroit go bankrupt," the president said. "So in this particular World Series, I might be a little partial."