Exclusive
Governor Mitt Romney's Testimony Being Reviewed For Thursday's 'October Surprise' Hearing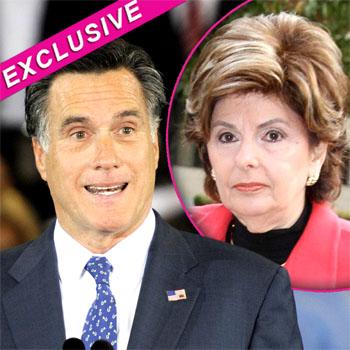 By Jen Heger - RadarOnline.com Assistant Managing Editor
Sworn testimony that Governor Mitt Romney gave in support of his good friend and GOP supporter, former CEO of Staples Tom Stemberg, during his divorce proceedings is being reviewed to determine if there are any objections to it being made public, RadarOnline.com is exclusively reporting.
Stemberg's lawyer, Brian Leary, initially thought that the file containing Romney's testimony had been destroyed. However, much to Leary's surprise, Gloria Allred, who is representing the businessman's first ex-wife, Maureen Sullivan Stemberg, provided copies of the governor's deposition to all lawyers in the case, except for the Boston Globe. The Boston Globe is asking Judge Jennifer Ulwick to release Governor Romney's testimony because it's sealed. Romney gave the deposition in the early 1990s.
Article continues below advertisement
Judge Ulwick was also given by Stemberg's attorney a copy of RadarOnline.com's initial report about Allred's so-called "October Surprise" involving Mitt Romney, and it's now a part of the official court record in this matter.
As RadarOnline.com previously reported, the Boston-area judge has delayed by one day a hearing to determine if Romney's testimony can be unsealed. The hearing is now scheduled for Thursday at 9 a.m. ET.
The decision to delay the hearing came after Allred arrived at court Wednesday morning with Stemberg's former wife Maureen Sullivan Stemberg who told the judge that she does not object to unsealing testimony given by Romney in her divorce case.
Allred's "October Surprise" for Governor Romney involves allegations about a child custody matter that the Republican presidential hopeful testified about involving Stemberg and his divorce from one of his two ex-wives and Romney's role in working with Stemberg as CEO of Staples.
Article continues below advertisement
The founder of Staples, who spoke on behalf of Romney at the Republican National Convention in Tampa Bay, Florida this past summer, has four sons from two different ex-wives, Maureen Sullivan Stemberg and Dola Hamilton Stemberg. Mitt Romney's hedge fund, Bain Capital, was an early investor of Staples. Tom Stemberg's sons are in their mid-teens and early twenties.
Stemberg's lawyer wanted the proceedings Wednesday morning closed to the public, while Governor Romney's attorney took no position. Allred had no qualms with the hearing remaining open, and it did.
Meanwhile, Romney's attorney, Robert Jones, told the judge he needed time to review the transcript, but he said he didn't anticipate his client would object to it being released. Jones also asked the judge to make a ruling tomorrow because, "the longer this goes on, the more speculation there will be."
"This is a decades-old divorce case in which Mitt Romney provided testimony as to the value of a company. He has no objection to letting the public see that testimony," Jones said in a statement to RadarOnline.com.