Did Bob Schieffer Say 'Obama' Bin Laden During Presidential Debate?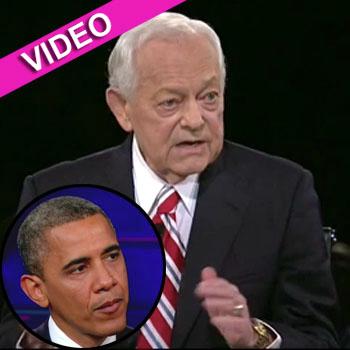 Several TV anchors have made the embarrassing mistake of saying 'Obama' Bin Laden when referring to the former al-Qaida leader, but did CBS' Bob Schieffer join that dubious club during the highly-watched third and final Presidential Debate Monday night? It depends on who you ask.
During the debate, Schieffer stumbled over Osama Bin Laden's name while posing a question to Mitt Romney about Pakistan. The veteran CBS journalist said "Obama's Bin Laden" which has people wondering if he started to say "Obama Bin Laden" before correcting himself mid-sentence, or if it was just an awkward reference to the late terrorist.
Article continues below advertisement