President Obama Weighs In On War Between Nicki Minaj & Mariah Carey!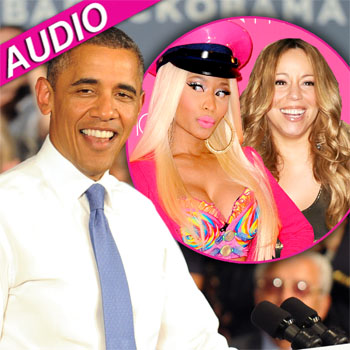 Who better than the American leader to chime in on American Idol?
President Barack Obama weighed in on the ongoing feud between the show's new judges Nicki Minaj and Mariah Carey in an interview with Miami's YO show on Y100 Monday.
Asked about the dueling divas, the pop culture friendly leader predicted, "I think they are going to be able to sort it out.
"I am confident … I'm all about bringing people together for the same cause," he said, predicting that "both outstanding artists are going to be able…. they're moving forwards and not backward."
Article continues below advertisement
The president said he's met Mariah, calling her "a wonderful lady," and as for Nicki, while he's never met her, he's got her music on his iPod.
Asked how he thinks HE would fare on American Idol, the president referred to his famous singing of Al Green's Let's Stay Together before stating the oh-so obvious: "I'm gonna try to keep my day job."
As RadarOnline.com previously reported, the Super Bass singer exploded on Mariah during the show's auditions in North Carolina, when she declared, "I'm not f***ing putting up with her highness over there - figure it the f*** out, figure it out."
MORE ON:
hollywood happenings