Divas Dark Fight! Mariah Carey Confirms That Nicki Minaj Threatened To Shoot Her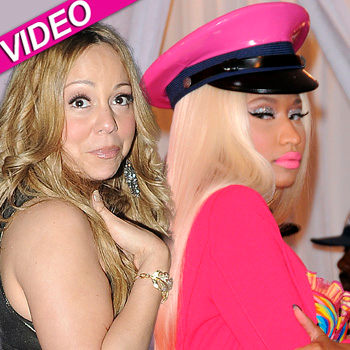 Clash of the divas just took a dark turn!
Nicki Minaj and Mariah Carey are battling on the set of American Idol but their epic fight may have become too violent for Mimi.
Nicki Minaj screamed at Mariah in an obscenity laced rant which was captured on camera.
"I told them I'm not f**king putting up with your f**king highness over there," Minaj yelled. "Figure it the f**k out. Figure it out."
Article continues below advertisement
Mariah is finally heard giving it back to Nicki taunting, "Oh why, whyyyyyyyy, do I have a three-year-old sitting around me?"
On The View Thursday morning Barbara Walters said she called Mariah Carey, who told her when Nicki walked off the set multiple people heard her say "If I had a gun I'd shoot the b*itch."
Mariah told Barbara that staff members, hairdressers, and others heard the threat and "she's very concerned."
Mimi also told Barbara that she was with her twins and "Nicki is unpredictable, she can't take a chance and she has hired extra security."
According to Mariah, Nicki has not apologized but she approached Mariah after a meeting and said "I love you, but we might fight again," and Mariah responded, "No, we won't."
Nicki took to her Twitter to throw fuel on the fire with Mariah, writing "Never needed an army. God is good. Insecurity is as cruel as the grave," and "I guess it hurts 2 have the producers tell u to ur face that nicki is the best judge we've had since simon. Awww, poor u. Keep them lies cmn."