Ryan Seacrest Confirms Nicki Minaj & Mariah Carey Spat: 'It Got Heated'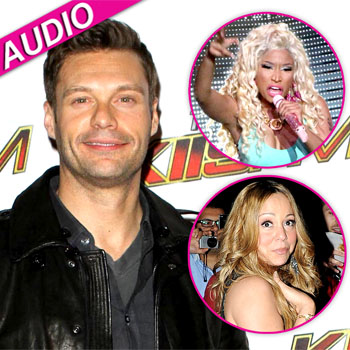 Article continues below advertisement
"I was outside the room with the contestant's family. But it was intense, I'll be honest with you."
As RadarOnline.com previously reported, a feud broke out between the two women during auditions in Charlotte, North Carolina, after they disagreed on a contestant's performance and Nicki reportedly threatened to "knock out" Mariah.
Nicki then unleashed an expletive-filled rant on Mariah that was caught on video.
"Every time you patronize me I'm-ma take it back and if you've got a f**king problem, handle it," Nicki screamed at Mariah.
"I told them I'm not f**king putting up with your f**king highness over there. Figure it the f**k out. Figure it out."
Ryan says Randy Jackson tried to step in to break it up, but ultimately didn't want to get involved.
"I think Randy was just trying to settle everybody down. As he is trying to be Switzerland," he joked.
Article continues below advertisement
"It just, it went far last night. It did get intense and we did wrap after it… That did get very dramatic yesterday."
And even though the auditions were cut short on Tuesday because of the altercation, Ryan says the contestants who weren't seen will get their shot during auditions on Wednesday.
"It was towards the end of the day and there were just a few contestants left to be seen yesterday and so producers came in and they said, 'Look we're going to call it a wrap for the day. Everybody go home, get a good night's rest and we'll start again tomorrow and those contestants that weren't seen will be part of today's auditions,'" Ryan said.