Watch Out American Idol! Divalicious Mariah Carey Is Determined To Make Her Mark!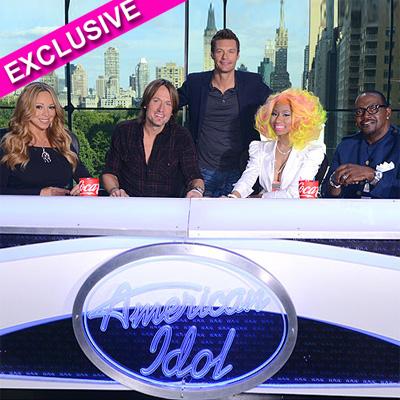 By Jon Boon - RadarOnline.com Reporter
In true diva style, pop superstar Mariah Carey is determined to make her mark on the upcoming season of American Idol, and, just days in, she is already ruffling a few feathers, RadarOnline.com is exclusively reporting.
The Always Be My Baby singer, 42, has suggested to stylists that it might be an idea to update host Ryan Seacrest's look, suggesting that maybe he should dye his hair a funky color and appear more casually-dressed, to get a more "youthful and trendy" feel to the show.
Article continues below advertisement
Needles to say, no one has passed the advice on to style-conscious Seacrest, 37, who has been hosting Idol since its launch in 2002, and is known for his smooth, clean-cut style.
"No one would even dare to bring up the subject with Ryan, or feels that it is needed," a source tells RadarOnline.com. "Ryan, and everyone, is very pleased with his style and look. It is totally the right feel and fit for Idol.
"Mariah mentioned some kind of bizarre ideas for re-styling Ryan, in terms of making him appeal to a younger audience. She said she feels that sometimes he appears far too serious and that he needs to lighten up a bit.
"She has a very definite sense of style and loves to leave her stamp — this likely won't be the first or last we will hear on the subject!"
Meanwhile, reports have surfaced that Mariah has already been clashing with fellow judge, Nicki Minaj. Carey has denied reports of a feud as being premature, telling Showbiz Tonight, "It's been two days…I think a feud takes a little longer!"
Article continues below advertisement
But, our source says that although there has been no outward hostility shown between the two larger than life personalities so far, they are certainly expecting more than a little friction along the way!
"You are looking at two huge stars with the associated giant egos that go along with that!" The source says. "I don't see any way these two won't clash!
"I think viewers can safely expect fireworks when the show goes live, and that's just music to the producers' ears — this is going to be ratings gold!"