Did Katie Couric Let The Cat Out Of The Bag? Says Nicki Minaj, Keith Urban Are New Idol Judges!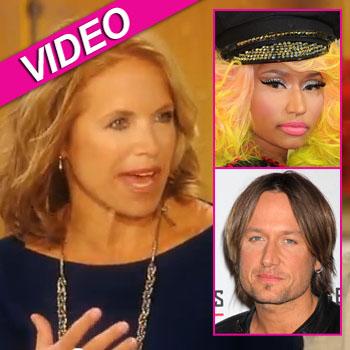 Article continues below advertisement
In a preview clip, Couric asks J. Lo: "What do you think about the new group of judges? I think they've announced…"
A shocked Lopez says: "Did they announce? Who is it?"
Couric responds by saying: "Yeah, I think it's going to be – Mariah Carey, you know, Keith Urban, Nicki Minaj and Randy Jackson, Randy's back."
Apparently pleased with the line-up the singer said: "Thank God. I love Randy.
"That's an eclectic group. They'll all have something different to offer so it should be interesting."
The problem is that Fox, the network that airs American Idol, says the new judging panel has not yet been confirmed.
A Fox representative told ABCNews.com: "Please note that the only confirmed judge for American Idol is Mariah Carey.
"No other judges have been announced at this time."
In a teaser obtained by RadarOnline.com the former TODAY host also probes the mom-of-two about divorce and what it's like dating a younger man.
Article continues below advertisement
And the two women seemed to bond over their love of younger men. Couric says: "You've been in a relationship. He is 18 years younger…
"Been there. Done that!"
Lopez is dating back up dancer Casper Smart, 24, meanwhile last year Couric split from her boyfriend of five years, Brooks Perlin, who is 17 years her junior.
J. Lo responds by saying: "The whole number thing for me is hard to kind of get my mind around."