Heidi Klum & Seal Not 'The Greatest Friends Right Now, Especially Because Of Things He's Said'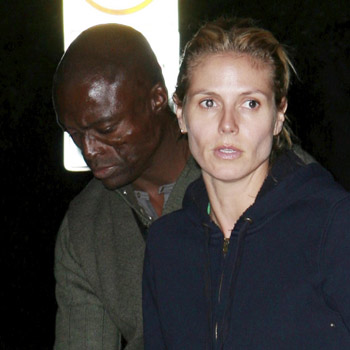 Article continues below advertisement
In an upcoming episode of Katie Couric's new talk show, Katie, to be broadcast Wednesday, Klum denies the cheating accusations once again, and admits they haven't helped the already deteriorated relationship between the soon-to-be divorced couple.
"I don't know if we're the greatest friends right now, especially because of the things that he said," Klum confesses. "I just saw him on, on Sunday. We were talking and we're in an okay place."
Klum also tells Couric: "When we were together, I never looked at another man."
As previously reported, it's been getting nasty between Heidi and Seal, with the 49-year-old singer attempting to use his model wife's bodyguard relationship as 'leverage' in their impending divorce.
"Seal will make Heidi's life a misery now that she's confirmed she's together with Martin," a source revealed.
"He's fuming that Heidi admitted she's been dating Martin for three months. He didn't expect her to find happiness with someone else before their divorce was officially finalized.
Article continues below advertisement
"It's a real blow to his ego and he now wants more money from her in the divorce settlement – just because she's dating somebody before the paperwork is settled. Seal will also demand that he gets more time with the kids.
"But Heidi won't back down and isn't prepared to give up her fortune or custody of their children without a fight.
"If she has to, she will face off against him in court. Heidi thinks he's being incredibly petty and also doesn't think he legally has a leg to stand on," the source concluded.