The Story Behind Heidi Klum's Bodyguard Hook-Up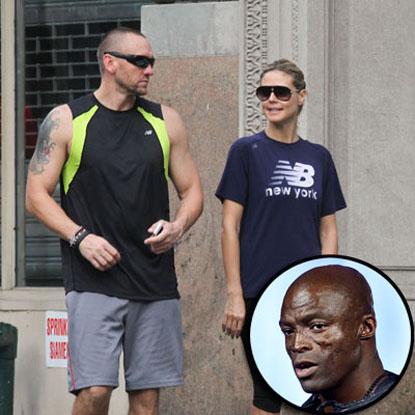 Seal's turned heads saying ex Heidi Klum was classless to "fornicate with the help" in the wake of her newfound love with bodyguard Martin Kirsten, and insiders close to the Project Runway beauty say that the recently hooked-up pair's relationship is one that gradually developed after she became single.
One insider told a magazine that while the two maintained a professional relationship, "This summer, the relationship developed into something more."
Article continues below advertisement
A pal of Heidi's said while her summer romance "still may be a rebound … she is comfortable with" Martin.
As we previously reported, the Kissed By A Rose singer seemed like he was stung by a bee in an interview in which he said he "would have preferred Heidi show a little more class and at least wait until we separated" to hook up with her hunky South African protector.
Seal's rep later clarified the singer's comments saying Seal "was not implying his wife was cheating while they were together."
"I cherish all of the great memories Seal and I created together over the years," the German supermodel told US magazine in response. "Seal has moved on and so have I."
One source told US that with Heidi's hectic schedule, it's no big surprise she found love right at her side.
"Her life is her kids and her work," the source said. "She's not a station wagon person, not a race car person. If you're Heidi, where do you meet someone you can trust?"
Article continues below advertisement
Seal Backtracks On His Criticism Of Heidi Cheating While Married
Heidi Klum And Her Bodyguard Boyfriend Have Breakfast Date With Her Kids