TODAY Show Disaster Continues: NBC President Offers Weak Apology For 9/11 'Moment Of Silence' Fiasco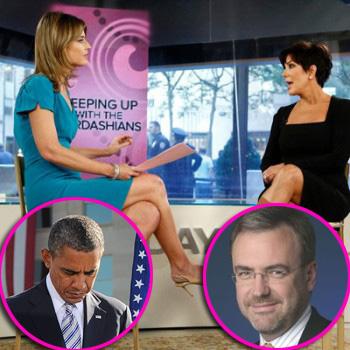 In the wake of NBC News' head-scratching decision to not broadcast live the moment of silence to mark the anniversary of the September 11th terrorist attacks, the head of NBC News is apologizing -- sort of.
Steve Capus, the president of NBC News, sent managers at its affiliated stations on Wednesday an apology for "touching a nerve with many of your viewers" after TODAY chose to air a live interview with Kris Jenner talking about breast implants, rather than carrying the somber moment of silence during its broadcast on Tuesday.
Article continues below advertisement
Despite his memo to executives within the NBC family, Capus did not issue a public apology, and there was no official press release to the media about TODAY's snafu.
The television insider website FTVLive Thursday posted the entire internal memo sent by Capus in which he praises staffers for their coverage of the deadly attack on the U.S. Embassy in Libya.
The memo begins with Capus praising NBC's coverage of the Embassy attacks and later even mentions how "brilliant" Matt Lauer and Savannah Guthrie are together.
Capus waits until the third paragraph of the memo to address the 9/11 snub that has sparked outrage directed at the Peacock Network.
Here is the internal memo Capus sent to the staff:
Today's extensive coverage of the Embassy attacks underscores the true strength of NBC News as well as the significant talents of Matt Lauer, Savannah Guthrie, Natalie Morales, Richard Engel, Andrea Mitchell, Peter Alexander, Kristen Welker, Chuck Todd, among many others. We committed substantially more airtime to this important breaking news story than other broadcasts: from the first Today show reports at 7am ET… through a one hour-plus special report.
Article continues below advertisement
All week, Ann Curry has delivered unique coverage of the refugee crisis on the Syrian border. Simply put, this is the only news organization devoting this much attention to these kinds of stories.
Yesterday, we made an editorial call resulting in the September 11th moment of silence not being seen. While we dedicated a substantial amount of airtime to the anniversary events, we still touched a nerve with many of your viewers… and for that we apologize. At NBC News, have taken great pride in the manner in which we have told the stories of September 11th. From the first moments of the attack, as documented live on TODAY in 2001 … through every anniversary and development since, we are mindful of that legacy and our responsibilities.
This morning we had the opportunity to recommit ourselves to serious journalism and coverage. You've seen how brilliant Savannah and Matt are together.. especially when backed-up by the unparalleled strengths of this news division. We're proud of our teams today… and continue to focus on presenting the best possible broadcasts and worldwide news coverage for your stations.
Thanks for your attention…
Article continues below advertisement
-Steve Capus
Worth noting is that the Peacock Network has a history of not observing the 9/11 moment of silence, as they did not broadcast it from 2007-2010, in addition to Tuesday. They have some company among their media peers, as TV news insider website NewsBlues mentions in its latest coverage of TODAY's snafu: "For the record, The New York Times and The Wall Street Journal, arguably two of America's remaining newspapers of record, both failed to mention the 9/11 anniversary on their front pages Tuesday."
As we previously reported, Jenner was on the show to promote her family's shows on E!, a subsidiary of NBC.
The reality matriarch is reportedly irate she's been caught in the middle of the controversy.
"Kris is a big supporter of the troops and she's very upset about this," an insider told RadarOnline.com. "She had absolutely nothing to do with the decision to skip the national moment of silence on 9/11 and suddenly she's in the middle of it and it's her face being shown on TV while it's being discussed. She isn't saying so publicly but she is furious. She's angry the show put her in this position."