TODAY Stands By Controversial Decision To Air Kris Jenner Interview In Place of 9/11 Moment of Silence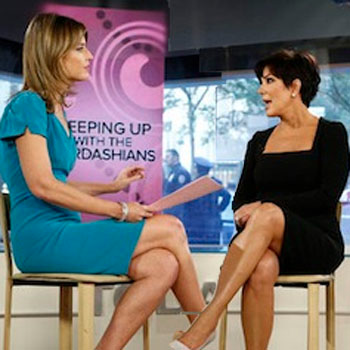 NBC News has stood by TODAY's controversial decision to air an interview with the mother hen of the Kardashian clan, Kris Jenner in place of Tuesday morning's 9/11 moment of silence, RadarOnline.com is reporting.
In a statement to TVLine, a spokesperson for NBC News said: "The TODAY show dedicated a considerable amount of time to September 11 coverage this morning throughout the entire show."
Article continues below advertisement
TODAY DID feature a prolonged segment earlier in the morning remembering the 11th anniversary of the terror attacks that destroyed the Twin Towers and attempted to bring down the Pentagon.
However, as Good Morning America and CBS Morning acknowledged the significant time of when the first hijacked plane struck the North Tower of the World Trade Center in New York City, TODAY had Savannah Guthrie quizzing Kris Jenner about her breast implants and Keeping up With the Kardashians.
But, if you were in the New York area, local affiliate WNBC-4 decided against running Jenner's interview and continued coverage of the 9/11 remembrance.
President Barack Obama and First Lady Michelle Obama led the White House in a moment of silence on Tuesday, while the NYPD, FDNY and Port Authority Police observed at Ground Zero, and most of the major cable network morning shows carried it — but not NBC.
Article continues below advertisement
People immediately took to Twitter to voice their disapproval:
"The Today Show has Kris Jenner on, no mentions of 9/11. Is 11 years the expiration date of caring? Terrible," one user tweeted.
Another wrote, "The fact that Kris Jenner is a guest on the today show on 9/11 seriously makes me doubt humanity."
"The Today Show chose to continue their interview with Kris Jenner rather than participate in a 9.11 moment of silence. DISGUSTING," the tweets go on.