Katie Couric Blasts NBC For Handling Of Ann Curry's Firing From TODAY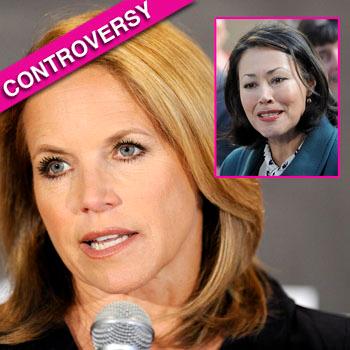 Article continues below advertisement
Curry was infamously dumped as the co-anchor of TODAY after Good Morning America started to beat the long-time number one show. Couric was a part of the TODAY family from 1991 until 2006 and worked with Curry extensively during that time.
Despite having been part of the TODAY family for more than 15 years, Curry was given a less than stellar send-off and tearfully told viewers in an awkward five minute segment: "This is not easy to say, but today's going to be my last morning as regular co-host of TODAY.
"To all of you who watch because Matt Lauer and I - and everyone who sits on this couch - we often call ourselves a family, but YOU are the real TODAY show family," she said. "You are why I have ventured into dangerous places and interviewed dictators and jumped out of planes and off of bridges and climbed mountains and landed in the South Pole and convinced the Dalai Lama to come live in our studio. I have loved you and I have wanted to give you the world and I still do," she said.
Article continues below advertisement
"I don't even know if I can sleep in anymore after all these years, but I know that whatever time I wake up, I'll be missing you. And I'll be believing in you. I love all of you, especially all of you who are behind the scenes, behind the cameras. I love you guys. For all of you who saw me as a groundbreaker, I'm sorry I couldn't carry the ball to the finish line, but man, I did try. And so to all of you who watched: Thank you from the bottom of my heart for letting me touch yours. ... I will keep trying and I'm sorry I turned into a sob sister this morning. Please forgive me, but I hope you'll wish me well."
After Curry's last appearance on TODAY as co-anchor in June, Couric said, "It really broke my heart this morning to see Ann, because I know she's suffering and is feeling a lot of pain with this transition. I know that it's really hard for everyone on the show. I still have a lot of great friends that I made over those 15 years on the TODAY show, and this kind of tumult is really hard for everyone."
Article continues below advertisement