More Trouble For TODAY After Ann Curry Firing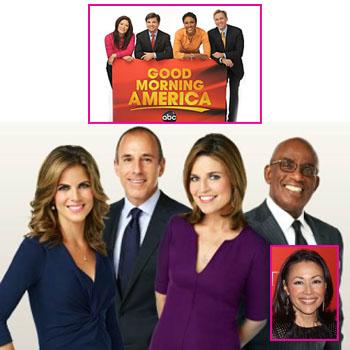 Here TODAY, gone tomorrow. Good Morning America is now the nation's most popular morning show.
Nielsen ratings released Monday indicate ABC's morning franchise beat NBC's last week, despite huge momentum for the TODAY show, which was coming off two dominant ratings weeks with their exclusive coverage from the London Olympics.
GMA beat TODAY by an average of 162,000 viewers, according to the Nielsens, as TODAY only won Monday out of the five-day week. TODAY had squashed GMA during the two weeks of the Olympics by an average of more than 1.5 million viewers a week, but lost all five weeks in the ratings battle prior to the games in London.
Article continues below advertisement
Another headache for TODAY is that GMA only looks to be getting stronger with the return of beloved anchor Robin Roberts, who sat out the last two weeks as she battles MDS, a blood and bone marrow disease.
In contrast, TODAY seems primed for a mutiny, as reports from the set indicate internal discord since co-anchor Ann Curry was relieved of her duties after little more than a year on the job. Anchor Matt Lauer has been a target of derision behind-the-scenes -- and on the air -- amid chatter he pulled the strings that led to Curry's ouster.
Facing immense pressure, Curry's replacement Savannah Guthrie has been painted as somewhat of a scapegoat for the show's failure to return to ratings dominance, as TODAY lost a 16-year lead over Good Morning America earlier this year -- a trend that doesn't seem likely to reverse anytime soon.
RELATED STORIES:
Savannah Guthrie Officially Announced As Ann Curry's Replacement On TODAY