Exclusive
Backlash! Matt Lauer HATED at TODAY Show After Ann Curry's Firing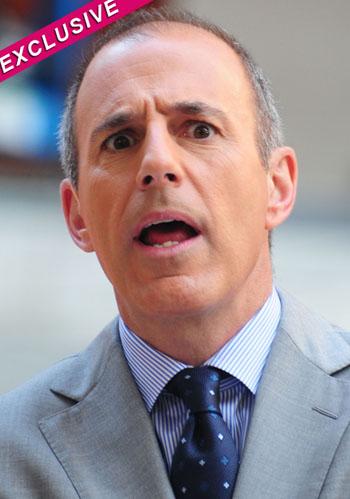 By Jen Heger - RadarOnline.com Assistant Managing Editor
Matt Lauer is "hated" by several long-time producers of TODAY and the crew is in turmoil, all as a result of the morning show host having pushed NBC executives to dump Ann Curry as his co-anchor, RadarOnline.com is exclusively reporting.
"There are several producers that have been with the TODAY Show for a very long time, over ten years, and Matt Lauer is now hated by them because they feel that he is responsible for Ann Curry's being fired. Ann was tremendously popular with the producers, cameramen, and other staffers of the show because she truly is a team player. Ann was all about the news, and breaking stories, just a true pro," a source close to the situation tells us.
Article continues below advertisement
"Matt on the other hand has been known to act like a real diva. The staffers are disgruntled because they were looking forward to working with Ann during the Olympics and she ended up relegated to very limited camera time and didn't even appear until several days before the games ended," the source says.
As previously reported, despite huge efforts by TODAY show producers, Good Morning America continues to nip at their heels in the ratings war, and staffers of the embattled morning show are grumbling that they feel it was a mistake to replace Curry with Savannah Guthrie.
"Ann had been part of the TODAY show for over 15 years, and her send off was just horribly executed. It's not lost on anyone that GMA beat the TODAY show on Wednesday in the ratings yet again. Viewers have had enough and the show just isn't staying relevant. Morale is extremely low and something is going to need to change very quickly before they can get the TODAY show back in first place for good," an insider previously told us.
Article continues below advertisement
TODAY beat GMA on Monday and Tuesday, but the ABC show won the ratings race on Wednesday when Robert Pattinson did his first morning show interview since the cheating scandal involving girl friend Kristen Stewart erupted.
During Thursday's show Al Roker seemed to take a dig at Matt Lauer for throwing Ann "under the bus."
"The ladies threw you in the water after winning the gold?" Lauer asked Olympic women's rowing team member and California-native, Mary Whipple.
"The tradition here in New York is you throw her in the Hudson River." Roker cheekily quipped: "Which is different to our tradition here which is to throw one of us under the bus! But that's a different story..."
After a second of stunned silence -- and nervous laughter -- both Lauer and Guthrie said with a sarcastic tone, "Mr. Roker!" Roker may have responded with a cryptic Tweet on Friday, "Some competitors are classier than others. Sad, really," after CBS and ABC News did stories about the popular weatherman's comments about being thrown under the bus.
Article continues below advertisement
"The crew is taking bets about what the cast will look like in one year, and the money is on Savannah Guthrie not sticking around if the ratings continue to plummet. The crew and producers don't have an issue with Savannah, in fact, they really like her, but they are just getting to know her. Ann was with TODAY for over 15 years," the source says.
RELATED STORIES:
Savannah Guthrie Officially Announced As Ann Curry's Replacement On TODAY