What Was Behind Ann Curry's TODAY Show Breakdown?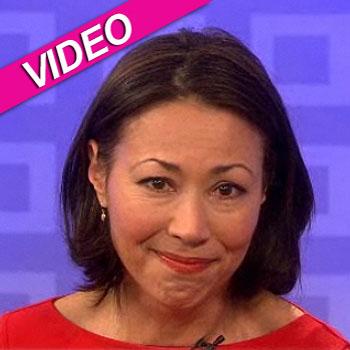 Friday's TODAY began with all smiles -- a beaming Matt Lauer sitting next to his apparent new co-host Savannah Guthrie. It was a sharp contrast to Thursday's TODAY, which ended with Ann Curry choking back tears as she officially confirmed what had been rumored for weeks -- that she was leaving the iconic NBC morning program, and not of her own choosing.
But what was behind Curry's very public breakdown? It's been widely reported that Lauer felt the two had a lack of chemistry and wanted her out -- a fact she clearly knew and that weighed upon her. During her emotional goodbye, Curry barely looked Lauer in the eye, even as he awkwardly praised her for having "the biggest heart in the business."
Article continues below advertisement
As difficult as it must have been to sit next to Lauer and listen to his carefully worded praise, Curry herself provides answers in the August issue of Ladies Home Journal about her own struggles with self-doubt.
Speaking about TODAY's falling ratings and recently losing to rival Good Morning America, Curry reflected on her self-doubts. "It's hard not to take it personally. You worry, Am I not good enough? Am I not what people need? Am I asking the right questions?" she said.
"When people say negative things or speculate, you can't help but feel hurt. I know NBC pays my salary but I have never doubted who I work for. I think about the people who watch. They're the ones who matter to me. I want to feel I haven't dropped the ball when it comes to them."
Curry's breakdown also stemmed from the fact that at the time of her interview with Ladies Home Journal, she clearly believed she would be at TODAY for the long haul. When Curry was asked where she sees herself in five, 10 years from now, she said: "I've been at Today for 15 years and I'd love to make it to 20. I think eventually I want to become a teacher, like my father wanted to be, and hopefully positively influence the next generation."
Article continues below advertisement
The August issue of Ladies Home Journal featuring Curry's interview hits newsstands on July 10.
Meanwhile, one day after Curry's awkward exit, TODAY began on an interesting note Friday. The show began as usual, with the announcer, saying: "From NBC news, this is TODAY. Live from Studio 1-A in Rockefeller Plaza." However, the announcer did not mention Matt Lauer by name, nor the name of his co-host -- in this case, Savannah Guthrie, rumored to be the frontrunner for the coveted job. (In addition, their names did not flash on the screen, as per normal.)
Lauer and Guthrie -- the MSNBC personality who currently co-hosts the third hour of TODAY -- launched immediately into teasing the stories coming up on the program. Lauer noticeably did not welcome her to the 7 o'clock hour, nor, of course, make any mention of Curry.
While Guthrie is reportedly the first name atop the list of potential replacements for Curry, NBC has yet to make an official announcement. There's talk the Peacock Network may release a statement later Friday to quietly confirm that yes, Guthrie is the new co-host, although a source tells RadarOnline.com a decision won't be made public until "at least mid July" or even longer to fit in with the start of the London Olympics.
Article continues below advertisement
There's also a growing online movement to have MSNBC's popular anchor Tamron Hall, who regularly fills in on TODAY, to become a permanent member of the show, perhaps joining the third hour of TODAY, should Guthrie be officially named co-host of the 7-9 a.m. block.
radar_embed service=5min.com src=" http://pshared.5min.com/Scripts/PlayerSeed.js?sid=1126&width=486&height=412&playList=517713804&sequential=1&shuffle=0"