Savannah Guthrie Settles Into Ann's Chair, Is This The New TODAY Team?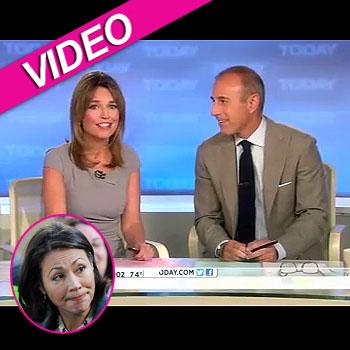 By Neil Woulfe - RadarOnline.com Senior News Director
It's a new day at TODAY.
One day after the awkward exit of a teary-eyed Ann Curry, the popular NBC morning program began on an interesting note Friday. The show began as usual, with the announcer, saying: "From NBC news, this is TODAY. Live from Studio 1-A in Rockefeller Plaza." However, the announcer did not mention Matt Lauer by name, nor the name of his co-host -- in this case, Savannah Guthrie, rumored to be the frontrunner for the coveted job. (In addition, their names did not flash on the screen, as per normal.)
Article continues below advertisement
Lauer and Guthrie -- the MSNBC personality who currently co-hosts the third hour of TODAY -- launched immediately into teasing the stories coming up on the program. Lauer noticeably did not welcome her to the 7 o'clock hour, nor, of course, make any mention of Curry.
On Thursday, after weeks of rumors and speculation, Curry departed TODAY after slightly more than a year as Lauer's co-host. (Prior to that, she was the show's news reader for 14 years.) In marked contrast to the departure of the previous host, Meredith Vieira, who received an extended hero's sendoff last June, Curry's exit was relegated to the final moments of the show's second hour. During her remarks, Curry choked back tears and made it clear she was not leaving of her own choosing.
"This is not easy to say, but today's going to be my last morning as regular co-host of TODAY," she said full of emotion.
"To all of you who watch because Matt and I -- and everyone who sits on this couch -- we often call ourselves a family, but YOU are the real TODAY show family," she said. "You are why I have ventured into dangerous places and interviewed dictators and jumped out of planes and off of bridges and climbed mountains and landed in the South Pole and convinced the Dalai Lama to come live in our studio.
Article continues below advertisement
"I have loved you and I have wanted to give you the world, and I still do."
Curry, fighting back tears, confirmed she will stay with the Peacock Network as a correspondent dealing with hard news stories. She said she'll have "a fancy new title" with the network, and tasks that will have her "go all over the world and all over the county at a time when this country and this world needs clarity."
Curry said, "I don't even know if I can sleep in anymore after all these years, but I know that whatever time I wake up, I'll be missing you. And I'll be believing in you. I love all of you, especially all of you who are behind the scenes, behind the cameras. I love you guys."
She wrapped up saying, "For all of you who saw me as a groundbreaker, I'm sorry I couldn't carry the ball to the finish line, but man, I did try. And so to all of you who watched: Thank you from the bottom of my heart for letting me touch yours. ... I will keep trying and I'm sorry I turned into a sob sister this morning.
"Please forgive me, but I hope you'll wish me well."
In an awkward exchange, Lauer -- who reportedly urged NBC suits to replace Curry -- told her she has "the biggest heart in the business," to which Curry admitted, "I'm wearing it on my sleeve this morning."
Article continues below advertisement
Watch the video on RadarOnline.com
Lauer responded, "No, you put it on display every single day in this studio and you have for almost 20 years. The way you care about people comes through in every single story you report … thank you from the bottom of our hearts."
While Savannah Guthrie is reportedly the first name atop the list of potential replacements for Curry, NBC has yet to make an official announcement.
There's also a growing online movement to have MSNBC's popular anchor Tamron Hall, who regularly fills in on TODAY, to become a permanent member of the show, perhaps joining the third hour of TODAY, should Guthrie be officially named co-host of the 7am-9am block.
radar_embed service=5min.com src=" http://pshared.5min.com/Scripts/PlayerSeed.js?sid=1126&width=486&height=412&playList=517713808&sequential=1&shuffle=0"