Exclusive
Angelina Jolie Tells Ann Curry: Brad & I Will NOT Give Interviews To TODAY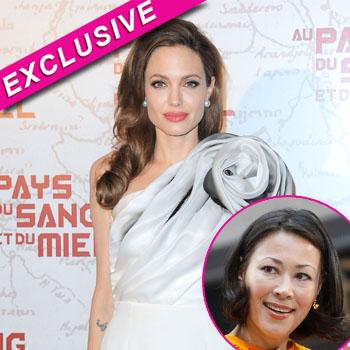 Article continues below advertisement
"Angelina reached out to Ann Curry after she was fired from her gig on the TODAY show and was very clear, if ANY news program from NBC wants an interview with her, or Brad, Ann will be the only one to do it," a source close to the situation tells us.
"Angelina has tremendous respect for Ann because of the work she has done on bringing awareness to Darfur. Ann has developed a professional relationship with Angelina and Brad, and they trust her implicitly because of her integrity. Their working relationship has developed into a friendship, and it meant the world to Ann that Angelina had reached out to her. Angelina made it clear to Ann that no one from the current TODAY show cast would get an interview with Angelina or Brad, and with rumors of an upcoming wedding for the couple, NBC will lose any interviews with the actors in the future if Ann isn't allowed to do it," the insider added.
As RadarOnline.com previously reported, Nielsen ratings released Monday indicate ABC's Good Morning America beat TODAY last week, despite huge momentum for the NBC morning program, which was coming off two dominant ratings weeks with their exclusive coverage from the London Olympics.
GMA beat TODAY by an average of 162,000 viewers, according to the Nielsens, as TODAY only won Monday out of the five-day week. TODAY had squashed GMA during the two weeks of the Olympics by an average of more than 1.5 million viewers a week, but lost all five weeks in the ratings battle prior to the games in London.
Article continues below advertisement
Furthermore, Matt Lauer is "hated" by several long-time producers of TODAY and the crew is in turmoil, all as a result of the morning show host having pushed NBC executives to dump Curry as his co-anchor.
"There are several producers that have been with the TODAY show for a very long time, over ten years, and Matt Lauer is now hated by them because they feel that he is responsible for Ann Curry's being fired. Ann was tremendously popular with the producers, cameramen, and other staffers of the show because she truly is a team player. Ann was all about the news, and breaking stories, just a true pro," a source previously told us.
"Angelina doesn't have a publicist, she never has, and she hand picks who she does press with. Angie doesn't like how Ann has been treated by NBC. Yes, she is a very busy mom of six, and her work as an actress and activist, but she has been very aware of what is going on with her friend. Angelina told Brad he should let Ann interview him for all of his work in New Orleans after Hurricane Katrina, and Brad feels the same way about Ann that Angie does," the insider says.