Katie Couric Scores First TV Interview With Jessica Simpson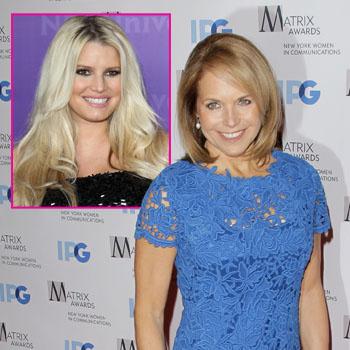 By Alexis Tereszcuk - Radar Entertainment Editor
Katie Couric is bringing out the big guns for her new talk show and her first guest is new mom Jessica Simpson who will be showing off her post baby body.
Katie will premiere on September 10 with Jessica, who will talk about how she's losing the 70 pounds she gained during pregnancy through her job as a Weight Watchers spokeswoman.
Her daughter, Maxwell Drew Johnson, was born on May 1, and she'll open up to the veteran TV host about what life has been like since she arrived and how she's juggling motherhood and still running her billion dollar fashion empire.
Article continues below advertisement
Also joining Katie on her first episode is her friend Sheryl Crow, who wrote the theme song for the show entitled This Day, who will candidly discuss her recently diagnosed brain tumor.
Katie's lists of guests for the first weeks of her show include Aimee Copeland, Amanda Knox's former boyfriend Raffaele Sollecito and Sharon and Lexie Love, the mother and sister of Yeardley Love, the UVA lacrosse player who was murdered by her ex-boyfriend. She is also speaking to Hollywood stars Barbra Streisand, Jennifer Lopez and even acid tongued Chelsea Handler will sit down with America's television sweetheart for her new show.