Jessica Simpson: 'Weight Watchers Hasn't Put ANY Pressure On Me'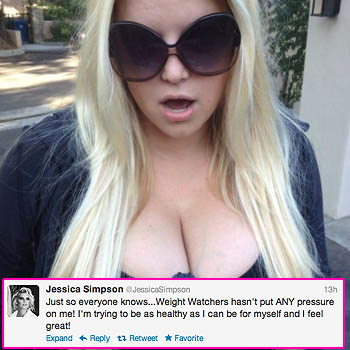 New mom Jessica Simpson tweeted Thursday that rumors her $4 million Weight Watchers deal comes with a mandate she slim down to 130 pounds are not true.
"Just so everyone knows...Weight Watchers hasn't put ANY pressure on me," Jessica, 31, tweeted. "I'm trying to be as healthy as I can be for myself and I feel great!"
On May 1, Jessica gave birth to baby girl Maxwell Drew Johnson via C-section. The baby is her first child with fiancé Eric Johnson, a former tight end for the San Francisco 49ers.
Article continues below advertisement
PHOTOS Jessica Simpson And Eric Johnson Get Caught In The Rain
She told People last month she's not in any rush to shed the extra baby weight.
"After you have your baby it's like, 'Oh my God, what happened to my body? This is not me ... It would be nice to feel comfortable, but that's not my goal ... I just want to fit into jeans," she said.
Upon inking the Dukes of Hazzard star, Weight Watchers announced, "We're thrilled that Jessica Simpson has chosen to join Weight Watchers to adopt a healthier lifestyle and inspire others to do the same. Her talent, resilience and positive outlook already make her a great role model, and by deciding to trade in yo-yo dieting for a healthier lifestyle, we know she will inspire many women to join her."