Jessica Simpson 'Freaked Out' When She Learned She Was Pregnant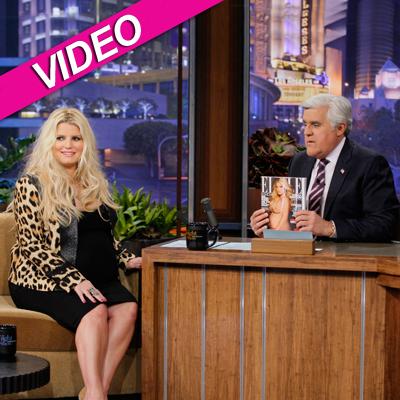 Jay Leno couldn't have introduced Jessica Simpson any better on Monday's edition of the Tonight Show.
"She's about to have a baby at any minute," he said of the expectant blonde beauty, who joked with Jay, "'Not quite yet we have some time ... we're waddling at this point."
The fashionista, who's expecting a girl with her fiancée, former NFL tight end Eric Johnson, wore a black dress and animal print cardigan in her appearance on the program.
Article continues below advertisement
Jessica, who made waves posing nude on the April cover of Elle, told Leno she expects that going into "labor is really going to hurt.
"I have so much respect for my mom and all the women across the world," the beauty told Leno. "It's a tough thing here and I'm wearing six inch heels, it's a lot of weight to carry on six inches."
Jessica told Jay that she found out she was expecting after instinctively feeling guilty over throwing back a few cocktails. That's when she took a test found out the life-changing news.
Watch the video on RadarOnline.com
"I freaked out, I was so excited, Eric didn't even know I was doing it, he was completely shocked -- he cried," she said, adding while they "weren't trying" to have a kid, they "were practicing!"
As for that fateful march down the altar everyone's been anticipating, Jess said the pitter patter of little feet will come before the ringing of wedding bells.
Article continues below advertisement