Jessica Simpson Designing A Maternity Line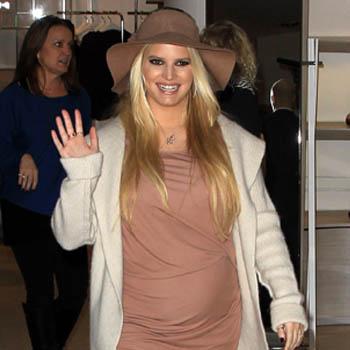 Jessica Simpson is really taking her pregnancy to heart, with the fashion mogul ready to conquer clothing for her fellow moms-to-be.
"I haven't really done maternity clothes because I don't really love a lot of maternity stuff, so I'm actually using it as a fun business thing to do. So the next thing you will see from the Jessica Simpson Collection is maternity," she revealed at a TCA press conference.
Article continues below advertisement
So how is the reality star dressing for her expanding belly?
"I definitely look at comfort. I buy bigger sizes, which is very important. The pregnancy's going great. I'm just waddling around now."
After weeks of speculation, Jessica, 31, revealed last October that she was expecting her first child with fiancé Eric Johnson. And the public couple want to keep a few things private.
"We're not saying the due date, but it's in the spring so it's coming," she said. "I do want to be surprised about whether it's a boy or a girl."
But don't worry, the upcoming judge of Fashion Star on NBC and her hubby-to-be are prepared.
"We've gone through all different kinds of names, but we're pretty much set on our name so we'll see what happens."
There's just one thing left to accomplish before baby makes three.
"I haven't started the nursery yet. In the next couple weeks I have to start. The baby's gotta sleep somewhere."
RELATED STORIES: