Honey Boo Boo's Mom On Kris Jenner Diss: 'There Is People Who Love Us And People Who Hate Us'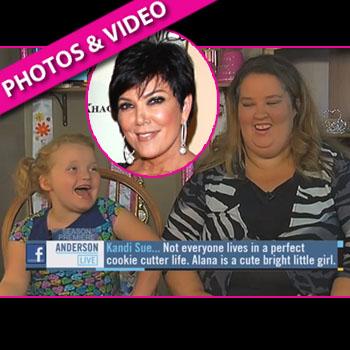 Article continues below advertisement
As RadarOnline.com previously reported, Jenner not only fears that the Thompsons are stealing the spotlight from her family and their show, but she also believes that June is a horrible mom for putting her daughter through beauty pageants and thinks she is exploiting 7-year-old Alana to make money.
"To say Kris is not a fan of Here Comes Honey Boo Boo is an understatement," a source revealed. "She thinks the Thompsons are classless, unlike her family and can't understand why America is so fascinated by them."
When asked if she was upset about the Kardashian mom-ager's disdain, the pageant queen matriarch seemed unfazed. "Do what now?" she replied. "Oh well you know it's just like any kind of critic you can't make everybody happy all the time."
Outspoken June went on to reveal that she doesn't care about other people who criticize the show for being crass either, telling Cooper: "In life there is going to be criticism… There is people who love us and people who hate us. We appreciate the people who support us and all through this and the people who hate us, it's a part of life everyday.
Article continues below advertisement
"We are real, we are not scripted. We are who we are, we are loving and I love being around my family so that's all that matters."
As for the seven-year-old star of the show, Honey Boo Boo couldn't be happier about all the attention. "You better redneckognize!" she squealed to Anderson and co-host Kristin Chenoweth.
Anderson Live is a nationally syndicated talk show, visit AndersonCooper.com for local listings. The full interview airs on Monday.
Here Comes Honey Boo Boo airs on Wednesdays 10/9 on TLC.