Exclusive
Kris Jenner Thinks June Shannon Is A Bad Mom, Is 'Exploiting' Honey Boo Boo To Make Money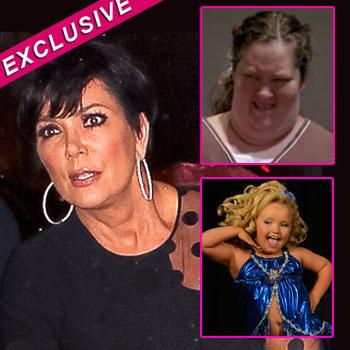 Article continues below advertisement
"To say Kris is not a fan of Here Comes Honey Boo Boo is an understatement," the source reveals.
"She thinks the Thompsons are classless, unlike her family and can't understand why America is so fascinated by them.
"The show has become bigger than Keeping Up With The Kardashians, and Kris is starting to feel threatened by its success.
"Kris especially has a strong dislike for June, claiming the beauty pageant world is vile and that June is a bad mom for 'exploiting' Alana in that way.
"Kris think it's all a ploy to make money, and says she sees through it and thinks it is absolutely disgusting.
"Although it's like pot calling the kettle black – you could say that Kris does exactly the same with her family," the source added.
Centered around Toddlers & Tiaras contestant Alana "Honey Boo Boo" Thompson, Here Comes Honey Boo Boo has become an overnight success, recently scoring more viewers than the entire Republican National Convention!
MORE ON:
Keeping Up With the Kardashians
Article continues below advertisement
The redneck reality TV show was watched by 2.9 million fans – doubling the figures of those tuning in to watch Paul Ryan's acceptance speech.
As RadarOnline previously reported, Honey Boo Boo was a "surprise" guest at a Jason Crabb concert last weekend, and the Christian singer's fans could not stop talking about it!
"Oh my!!! What a hoot!! We love Jason too and we can't look away from Honey Boo Boo LOL...Too sweet!!" wrote one of his followers.