Exclusive
Cops Called To Honey Boo Boo's House!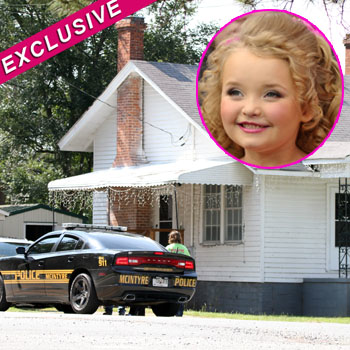 Article continues below advertisement
Chief Amerson of the McIntyre Police Department confirmed that a call was made to the authorities but said the responding officer's report is still pending.
Honey Boo Boo donned her sequined best this past weekend and competed in the Miss Sparkle & Shine beauty pageant with her whole family cheering her on.
Even her little one-month-old niece Kaitlyn was there to cheer on Aunt Honey Boo Boo and have her own version of Go Go Juice after Pumpkin dipped the baby's pacifier into a can of Mountain Dew Code Red before popping it into the baby's tiny mouth.