Honey Boo Boo's Sister Feeds One Month Old Baby Mountain Dew!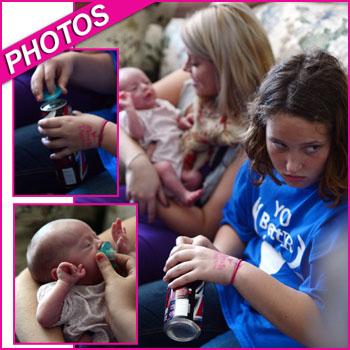 A baby sucking on Mountain Dew? Yikes!
In these new shots we have right here on RadarOnline.com, Honey Boo Boo's sister Pumpkin is up to some scary mischief, dipping the pacifier of her 1-month-old niece Kaitlyn in a can of Mountain Dew Code Red, then sticking the pacifier back into thebaby's mouth. (Needless to say, the caffeine-rich soda is not recommended for babies.)
Baby Kaitlyn is the daughter of Honey Boo Boo Child's oldest sister Anna "Chickadee" Shannon, 17.
Article continues below advertisement