Exclusive
Pageant Moms In Jealous Rage Over Honey Boo Boo's Success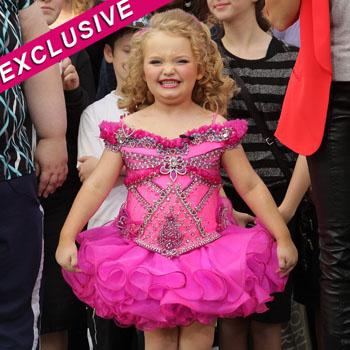 Here Comes Honey Boo Boo is a breakout ratings hit – but not everyone is happy about it.
A recent spate of negative stories about June Thompson whose daughter Alana Thompson (Honey Boo Boo) is drawing big ratings for TLC is the result of jealous pageant moms who are furious that their own little Boo Boos didn't land a show, RadarOnline.com has learned exclusively.
"Poor June, she's one of the nicest people you will ever meet," a source tells us. "But not everyone is happy for her success.
Article continues below advertisement
"Especially the other pageant moms."
That's putting it mildly.
Honey Boo Boo is the network's latest star after stepping out from Toddlers & Tiaras but some of the other pageant moms have been brutal.
"Everyone thinks their child should be the breakout star and deserves their own show," the source said. "And when they didn't get it, well, let's just say that's when the negative stories about June started.
"There has been a lot of talk behind her back and yes, even some diva behavior!"
Just shortly after Honey Boo Boo became a ratings winner, a legal problem June dealt with four years ago suddenly became headlines.
Leaked to the press out of jealousy?
Even a 6-year-old can redneckonize that, to borrow one of the show's contributions to modern language.
Added the source: "At times, it's like something from the movie Little Miss Sunshine."