Here Comes Honey Boo Boo! Take A Sneak Peek At Her New Show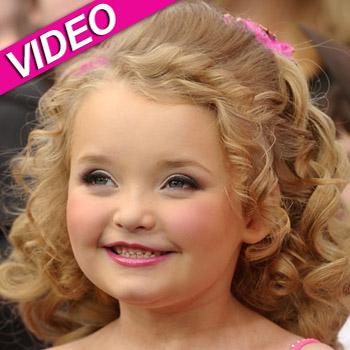 By Amber Goodhand - Radar News Editor
Honey Boo Boo took Toddlers & Tiaras by storm and now the pint-sized six-year-old has her own show, and RadarOnline.com has a sneak peek.
Here Comes Honey Boo Boo will air on TLC and will feature pageant veteran and Go-Go Juice drinking tot Alana Thompson and her entire family — including her teenage sister Anna "Chickadee," who is pregnant.
Alana's stage mom June Shannon and her hubby Sugar Bear also make appearances alongside their two other daughters, Lauryn "Pumpkin" and Jessica "Chubbs."
Article continues below advertisement
"We're not rednecks," one of the sisters says on the promo. "We all have our teeth, don't we?"
They may have their teeth, but viewers will question their class when they see the whole family making fart noises with their armpits and jiggling their bare bellies.
According to a statement from TLC, it was "her amusing personality and self-confidence" that won over viewers "and her self-proclaimed nickname became a fixture in pop culture."