Eden Wood's Mom Trying To Cash In With 'Pageant Mama Drama': Listen To It Here!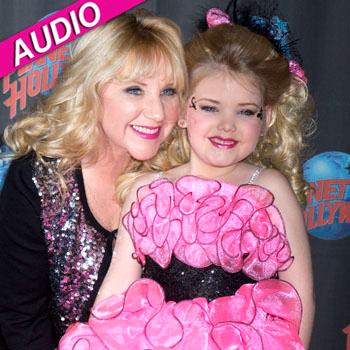 By Amber Goodhand - Radar News Editor
Eden Wood may have retired from the pageant world as a 6-year-old, but RadarOnline.com has learned her mother is still trying to cash in on her daughter's Toddlers & Tiaras fame.
The Cutie Patootie singer's mom, Mickie Wood, has recorded a song titled Pageant Mama Drama with Eden's manager, Heather Ryan, and we have an exclusive listen for you.
"They call us crazy pageant moms but they don't understand, our world is filled with glitz and glitter, makeup and spray tans," they sing.
Article continues below advertisement
"My baby's prettier, sweeter, more poised. Glitter, sparkle, I'm so glad I ain't got boys!"
Mickie sings about all the controversy that Toddlers & Tiaras has sparked, including hopping the young girls up for their competition with energy drinks and sugary treats.
"Pageant mama drama, rockin' your TV. Pageants mama drama, for all the world to see. Jumpin', screamin', yellin', antics all around. Dancin', screachin', cheerin', madness all around!" Mickie continues.
"A flipper's not a fish and a cupcake is a skirt… Red Bull and Pixy Stix give us the winning touch."
According to an insider, there's a lot of behind-the-scenes drama brewing on Eden's new show, Eden's World, between her manager and her publicist, Andrew Sullivan — who are both vying to run Eden's empire.
"To each his own. Rhyming about pageant moms is not what I focus my day-to-day on," Andrew told us when we reached out for comment.
Article continues below advertisement
"It takes a number of people to build an empire. I think we are a strong example of that."
You can catch all the pageant mama drama Monday night on Logo at 10/9c.