Toddlers & Tiaras Mom Dances In Her G-String For Daughter She Says Loves Lingerie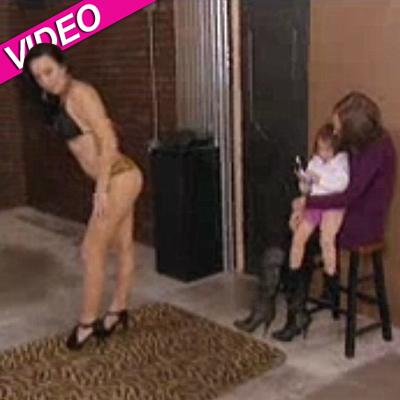 A mother's actions on TLC's Toddlers & Tiaras are sure to raise a few eyebrows, as the woman danced in front of her toddler in a thong -- because she says the 2-year-old is "obsessed with bras" and "loves Victoria's Secret."
The episode aired Wednesday night and RadarOnline.com has screen grabs of the mom's sexy dance.
Oklahoma mother-of-four Tricia said, "My style of parenting is extremely different," as she cavorted half-naked in front of her little girl SamiJo in the racy gear. Tricia claims it's fine for her to watch because SamiJo acts more like she's a 17-year-old.
Article continues below advertisement
"She knows, and has full comprehension of how the business works," Tricia said of SamiJo. "She has a vast understanding that some 7-year-olds, 6-year-olds don't have."
Tricia -- who moonlights as a model and MMA ring girl to make extra cash -- explained her irreverent parenting style.
"I think exposing your child to whatever you can is just a really great way to be culturally diverse," she said.
At one point, Tricia is advised by the photographer to seductively "arch" her back while her 2-year-old daughter watches on, soaking it all in.