Watch Out Honey Boo Boo Child, Looks Like Eden Wood Has Been On Your Go-Go Juice!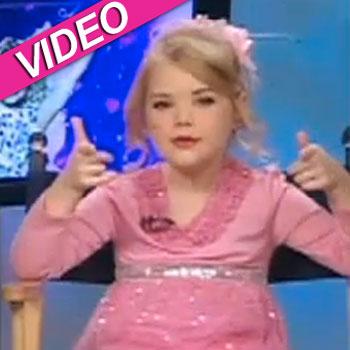 Toddlers & Tiaras star Eden Wood has given a bizarre and rambling TV interview to promote her new reality show, and RadarOnline.com has the crazy video.
The seven-year-old former pageant queen was live on CBS Atlanta Friday with her mother, Mickie Wood and appeared to have been hitting the Go-Go Juice!
Seemingly unable to answer any question properly, Eden sang and gesticulated her responses as she sat there in an all pink outfit looking very much like a teeny tiny Anna Nicole Smith.
Article continues below advertisement
The youngster kind of talks up Eden's World which she says will be about, "me, helping other kids, la la la, blah blah blah," before her mother interrupts her to tell her to get serious.
And when Mickie tries to talk about the show, Eden then talks all over her, mocking her with complete disregard and seemingly lacking in discipline – giving her mother lots of sass.
"Miss Wood, do we have to have a 'come to Jesus meeting?'" Mickie asks her daughter.
When asked how she feels about other pageant queens like Honey Boo Boo Child who are given energy drinks like Go-Go Juice to keep them amped up, the pageant mom skirts around the issue.
"I don't judge other people, and I don't like them judging me," she says. "I can only speak for us. It's to each his own. Two words come to mind – moderation and exaggeration."
And, although she never denies giving Eden Go-Go Juice and Pageant Crack she says it "wasn't an issue for them."
Article continues below advertisement
Eden recently retired from the pageant world because she was "sick of sitting through hair and make-up and wanted to be her," mom said. "She was bigger than pageants. The performer in her had to come out."
Finishing off the decidedly awkward interview, Eden forms her hands in the shape of a gun and shoots at the camera making bullet firing noises.
Although her mother maintains that Eden is a "happy camper" the little girl looked fidgety, agitated and appeared to find it difficult to remain focused throughout.