Exclusive
Watch Out Selena Gomez -- Toddlers & Tiaras Star Eden Wood Is Hot On Your Heels!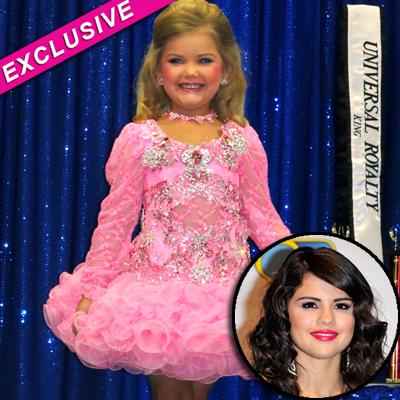 By Alexis Tereszcuk - RadarOnline.com Senior Reporter
Eden Wood, the 6-year-old diva from the hit show Toddlers & Tiaras, has big dreams -- she wants to grow up to be just like Selena Gomez, but she doesn't like her boyfriend!
"I want to be like Selena Gomez," Eden told RadarOnline.com in an exclusive interview.
With singing and dancing skills, and a Hollywood movie audition for a movie with Abigail Breslin coming up, Eden is trying to become a household name. But there is one thing she doesn't want -- Selena's teen heartthrob Justin Bieber for a boyfriend.
Article continues below advertisement
"I hate him!" Eden emphatically said. When asked why, like a true 6-year-old, she sassed: "Because, I just don't like him!"
Eden is the only child of Mickie Woods, who is anything but your typical showbiz mom. "I know what we're doing," she said. "I had Eden at 40, it's like God looked on our lives and said, let's have a little fun. Having Eden has been a breath of fresh air for us two old farts," she joked about herself and her husband.
The family recently announced the news that Eden was retiring from pageants to focus on her singing career and Mickie said she had just been "wiped out" from the shows.
"She is so little, we've been traveling non-stop," she said. "It is not conducive to a positive light and I want her to be happy. We have to pace ourselves."
She said that while pageants have been "wonderful for Eden," the glitz and glamour and the preparations for the pageants are not her favorite part. "Eden tells me I'm all about the stage and performing, I don't care about the hair and makeup," Mickie said.
Article continues below advertisement
A self proclaimed "pageant pioneer," Eden is becoming a business force too. She has her own bed range coming out called Eden Woods Princes Canopy Bed Line, from the company that sponsored the pageant that Eden and MaKenzie lost in the season premiere of the show.
Eden also has a voice part in the animated movie Every Covered Bridge and she's releasing an album on Tuesday on www.littleedenwoods.com.
"Under Puppy is my favorite song," Eden told RadarOnline.com about one of the songs she sings. But like every other kid in the summer, Eden is taking it easy. "I'm going to swim, watch movies, and play," she said of her plans.