Terrors And Tiaras! Honey Boo Boo Child Gets Amped Up & Goes Go Go Juice Crazy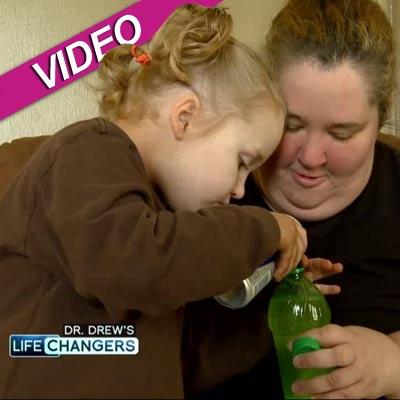 By Alexis Tereszcuk - Radar Senior Reporter
Can't get enough of Honey Boo Boo Child?
The newest little beauty queen from Toddlers & Tiaras, Alana "Honey Boo Boo Child" Thompson, shows off her wild antics at home after downing her favorite "Go Go Juice"-- and RadarOnline.com has the crazy video.
Dr. Drew's cameras go to the child star's home where her mother, June Shannon, gives her little girl her infamous and controversial caffeine and energy drink mixture which Honey Boo Boo Child says "tastes like apple juice," and she goes into a wild sugar overdose overdrive!
Article continues below advertisement
The amped up little beauty pageant star goes on a crazy sugar fuelled rampage, banging on road signs, dancing and smacking her belly and even takes a swat at her mama.
"You never know what's going to come out of her mouth, I'm sorry," June says about her child's antics.
Honey Boo Boo Child even jokes about Dr. Drew drinking her favorite Go Go Juice. "It'll probably make him want to pull his wife's hair," she says.
Check out the clip from Dr. Drew's Lifechangers of Honey Boo Boo at home going crazy after pounding her Go Go Juice.