Honey Boo Boo Child Performs Her 'Daisy Duke' Routine!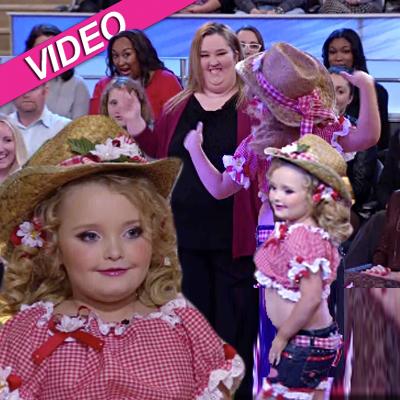 By Amber Goodhand - Radar Reporter
Alana "Honey Boo Boo Child" Thompson filmed Dr. Drew's Lifechangers with where she performed her famous Toddlers & Tiaras 'Daisy Duke' routine — and RadarOnline.com has the video!
Alana's mother June Shannon can be seen in the audience guiding her middrift-baring-daisy-duke-wearing daughter along in her routine.
After the performance Dr. Drew Pinsky had a special surprise for the six-year-old, crowning her "Lifechanger's Grand Supreme."
Article continues below advertisement
In a sneak peek previously obtained by RadarOnline.com, Dr. Drew discussed Alana's 'go-go juice,' which gives her an extra pep in her step when she hits the kiddie catwalk — and he even tasted it!
"I'm kind of starting to sweat a little bit," Dr. Drew jokes after drinking the Mountain Dew and Red Bull concoction. "I can't speak, my tongue's getting thick."
To see Alana's full appearance on the show, tune in to Dr. Drew's Lifechangers on February 2 on The CW.
And while Toddlers & Tiaras aired their season finale last week, we're sure to see plenty more of Honey Boo Boo Child as she makes her way through the media circuit.