Toddlers & Tiaras Meltdown: 'I'm Really Mad!' Screams Angry Pageant Mom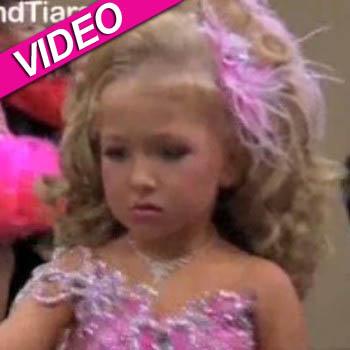 By Debbie Emery - RadarOnline.com Reporter
All is fair in love, war and children's beauty pageants!
Tempers run high on the latest episode of Toddlers & Tiaras, and RadarOnline.com has a sneak peak at all the explosive action.
Eager for her five-year-old Mia to take the crown, competitive mom Marina is convinced that the pageant director is deliberately conspiring against her little beauty queen.
"She cut her again!" fumed the ambitious mother as Mia was sent off the stage in her pink tutu. "Nobody told me how many minutes she needs to be on stage, because I saw the other girls have a full time."
Article continues below advertisement
Of course drama is nothing new in the high-stress world of fake eyelashes, curling irons and spray tans, as the girls get amped up to take the stage on go-go juice and pageant crack.
But Mia's mother didn't need any artificial stimulant to get her blood boiling!
"I'm mad, I'm really mad," she says, after pulling her little princess behind her. "Every penny we've spent on the pageant has just gone to trash!"
MORE ON:
Toddlers and Tiaras
The pressure soon becomes too much and Marina breaks down in front of her husband in floods of tears.
"She did this on purpose, she cut her down on purpose!" she screeches as Mia looks on calmly. "I wanna go home, I don't want to continue."
The manic mom then rampages through the hotel room while her two sons look on unaffected.
"They hate her, they hate her!" she screams.
The conspiracy - and the craziness - continues on the next episode of Toddlers & Tiaras, which airs on TLC on Wednesday at 10 p.m.