Exclusive
Toddlers & Tiaras Mom Defends Giving Young Daughter 'Pageant Crack' And 'GoGo Juice'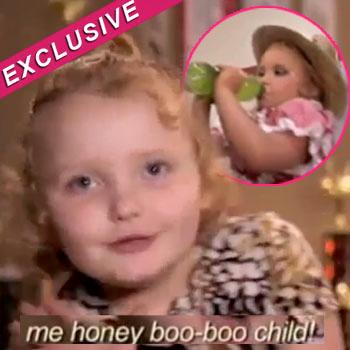 Article continues below advertisement
"I didn't do anything to hurt her," June said about plying her little girl with the magic brew.
"There are far worse things that I can do to my kid," she said, and dismissed critics of her parenting skills: "It is the way it is and I don't let what people say bother me."
In true reality star fame, June said she was happy that the controversy has helped people know about Alana. "As long as they're talking about us they're making us famous!"
Alana, who is nicked named Honey Boo Boo, spoke to RadarOnline.com about her spitfire persona.
"I get my sassy moves from my momma," the little girl twanged in her southern drawl, and said that now she's getting so much attention she's in charge.
"I'm the boss now because I'm famous!"
The precocious girl, who said she wants to be "a teacher or a person who does manicures or pedicures" when she grows up, is gearing-up for a beauty pageant this week and she assured RadarOnline.com that she will be the champion.