Toddlers & Tiaras Star Launches Jewelry Line With Anti-Bullying Bracelet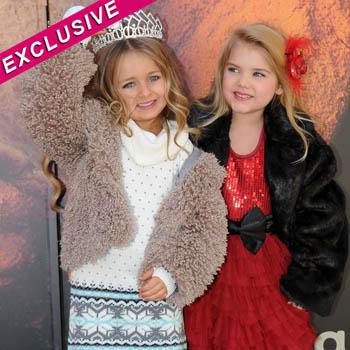 Toddlers & Tiaras star Isabella Barrett is only five-years-old but, but RadarOnline.com has exclusively learned she's already trying to make her first million.
The cutie-patootie is launching her own product and fashion line called The Glitzy Girl, and her first piece is an anti-bullying charm bracelet in honor of her sister, Victoria.
Her older sibling survived a horrific teen bullying incident that left her with a traumatic injury and the Barrett family now wants to promote positive messages with the tradable charm collection.
Article continues below advertisement
Isabella only set foot in her first pageant 10 months ago, but she is already making her name as the Kardashian of the tot modeling world as she builds her empire and is the first kid from the hit TLC show to get a merchandising deal.
"I spend my time helping my child make her own jewelry line to get kids to stop teen bullying," Isabella's mom Susanna said.
"In my episode of Toddlers you will not see Isabella going to the spa, spray tanning, or anything people think you have to do to get on TV!"
"I told Toddlers I think it's inappropriate to dress your child up to portray a character they can't understand. How do u explain to a 3 year old now get on stage and walk back and forth... why mommy??? And the girl doesn't even know she's a hooker."
And endorsing her cause is Toddlers & Tiaras queen Eden Wood, who called Isabella the next "it girl" to follow in her tiny, successful pageant footsteps.