Exclusive
Toddlers & Tiaras Star In Final Negotiations For Another Reality TV Show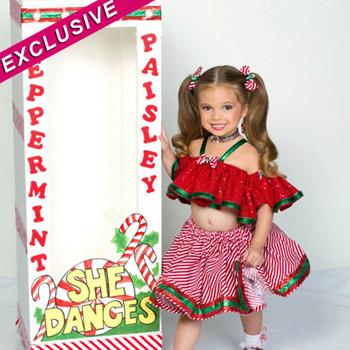 By Amber Goodhand - Radar Reporter
Toddlers & Tiaras star Paisley Dickey has risen to the top faster than most people six times her age, and RadarOnline.com has exclusively learned the three-year-old is in talks to star on yet another reality TV show.
All new episodes of TLC's highly popular Toddlers & Tiaras air Wednesday night and a source close to Paisley and her camp tells us that although she'll always be thankful for her start on the show, she's looking to move forward and wants to grasp as many opportunities as she can.
Article continues below advertisement
"Paisley and her mom are in the final stages of negotiations to star in a new reality show," the source told RadarOnline.com.
"Not much can be said about the show yet, until she officially signs, but everyone in her camp is really excited about it!"
In preparation for the new Toddlers & Tiaras episodes, Paisley's talent manager, Blake Woodruff, tells RadarOnline.com the Georgia native will be appearing Wednesday on a behind-the-scenes segment on ABC's Good Morning America.
"Paisley is a really talented little girl and she already has the drive she needs to succeed in this business," the source said.
"She's going to be a superstar because she wants to be a superstar."
Toddlers & Tiaras Mom Spent $30K This Year On Pageants!
Paisley, who turns four-years-old on December 14, knows how to stay busy. Woodruff says she's been filming with a British TV talk show, took runway lessons from a supermodel, dance lessons from a notable Broadway dancer and is putting the finishing touches on her Paisley doll line.
Article continues below advertisement
"America is definitely in for a treat when they get to see the new Outfit of Choice I designed for Paisley with her mom for the Darling Divas Pageant!" Woodruff said.
"We were so excited to be filming in New York City. Blake set us up with so many exclusive opportunities. Paisley definitely felt like a little superstar, especially when she was being followed by the paparazzi in the Fashion District," Paisley's mom, Wendy Dickey, told RadarOnline.com.