Exclusive
Toddlers & Tiaras Star Auctioning Off Controversial 'Pretty Woman' Outfit For Charity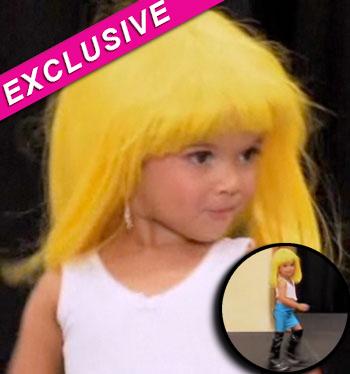 Toddlers & Tiaras star Paisley Dickey caused quite a stir when she performed a routine dressed in a Pretty Woman-themed outfit, which many deemed age-inappropriate for the four-year-old.
But RadarOnline.com has exclusively learned they want to turn the controversy around and focus on doing something good with it, by auctioning the outfit off and giving the proceeds to the Make-A-Wish Foundation.
Article continues below advertisement
"The Make-A-Wish Foundation holds a special meaning to us...and we are hoping to establish a relationship with them," Paisley's mother, Wendy Dickey told RadarOnline.com.
"With all the negative press that Paisley and I received about the Pretty Woman outfit, something that we found quite funny, we are excited to be able to use it as an opportunity to give back."
Paisley has a more innocent outlook on the cause, saying: "I love skittles and want to share them with everyone."
According to Paisley's talent manager, Blake Woodruff, they want to get her into the hospitals to visit and play with some of the children, and hopefully become a regular face in the foundation.
"Paisley really is such a sweetheart and she can make anyone laugh," Woodruff said.
"It is our plan to take her Peppermint Paisley character into some of the hospitals and really brighten up those patients' days."
Article continues below advertisement
Toddlers & Tiaras Mom Spent $30K This Year On Pageants!
The winner of the auction will be announced in November while Paisley is in New York City for a pageant.
"Blake is going to make me a superstar and I get to ride in an airplane," Paisley told RadarOnline.com.
However, the Make-A-Wish Foundation don't appear to be as eager to team up with the pint-sized tot and released the following statement:
"The Make-A-Wish Foundation® works very hard to ensure appropriate alignment of our reputation with efforts that are complimentary to the the family-friendly nature of our mission, and our own strong internal values and standards. We evaluate all proposals for licensing agreements, which are required to associate our name and marks with public fundraising efforts. We have not been contacted by anyone regarding this proposed auction. We have not authorized our name to be used for it, nor would we be likely to do so."